Willey Design
A well designed room has at least three colors. The two most prominent colors should be complementary colors or contrasting colors. Contrasting colors are across from each other on the ​Color Wheel​, while complementary colors are side­by­side. The third color is your accent color (small furnishings, accessories, curtains, etc). You may choose a fourth color, but tread lightly.

Surya Rug
Area rugs are islands for furniture placement. Purchase the largest rug possible if your budget will allow. Place the furniture inside the confinements of that rug. If you must
purchase a smaller rug, the rule to remember is: Front legs of sofas and chairs must sit on the rug, the rear legs can sit directly on hardwoods or tile.
Learn more about area rugs at: ​HotPads Shopping Guide ­ Area Rugs.​

Stupic
Big ticket items such as the sofa will be used for many years and will be a part of several redecorating projects over that time. Keep these items neutral in tones of beige, taupe, cream, brown or gray.
When purchasing wood furniture such as dining tables, armoires and console tables, remember this important rule: No matchy­matchy! If all wood furniture is the same stain color and style, your place will look like a staged model home. Look for pieces of similar stained finishes in light, medium or dark tones, but never the exact same stain for every piece in the room.

Accent tables, chairs and window treatments add your personality to the room. These should be items that speak to you! Bring in your accent color selection with these pieces and fill in the bare areas that remain after placing your large ticket furnishings.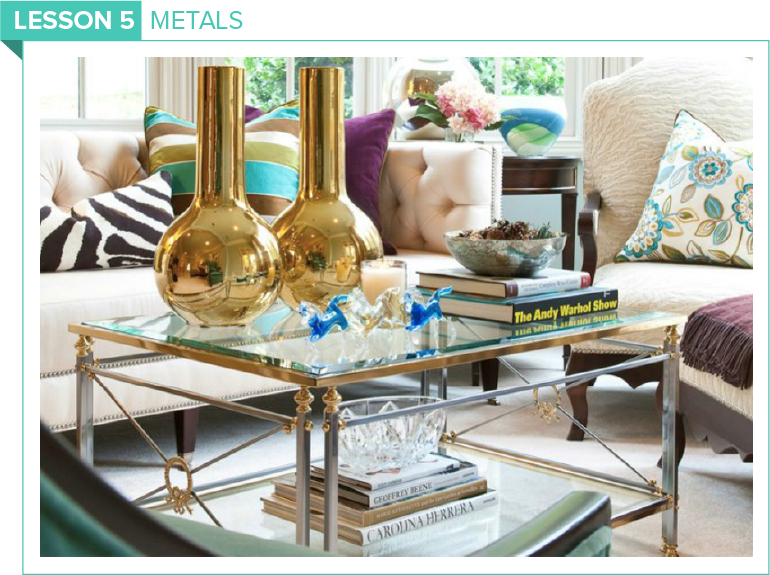 Christina Dearmas Interiors
The general consensus is ­ don't mix metals. If you are a bit of a rebel and like to break the rules, keep the metals to just two finishes in one room. All of the hardware (curtain rods, door knobs light fixtures and hooks) should be in one metal finish, while accessories and wall art can be in a second metal finish.

Arcadian Home
Lighting may very well be the most important stage of successful interior design. You'll want light to wash the room from the ceiling to the floor. Use at least 3 forms of lighting: Fill Light, Task Lighting and Ornamental Lights.
Fill Light is what lights up the body of the room, usually a ceiling mounted light fixture or recessed can lights. Task Lighting is used for reading next to chairs or placed on a desk in the form of table or floor lamps. Ornamental Lights give the room ambience at night. Ornamental lighting should be used to light the lower levels of the room in the form of
up­lights, placed in the corners of the room. Track lights are another form of Ornamental lighting, attached to the ceiling, and used to highlight artwork or tapestries hung on the wall.
Mix­in one more form of lighting ­ candles ­ for a warm inviting glow. Bulb choice has a huge impact on the feeling of a room. Pure white bulbs (Halogen) are by far the prettiest lighting.

Woollypocket

Large plants such as a ficus, fig or palm tree should be used to fill the vertical space in the corners of the room. Plants set on the floor in large planters offer another location to insert "lighting", by the use of up­lights set behind the planter.
Learn more about ​Woollypocket​ self watering wall and planter systems at: G​reenify Your Home Or Office In The City​.

Ethan Allen
Accessories or ​chotchkies​ as designers affectionately refer to them ­ are the synonym of jewelry. They serve no real purpose in the function of the room ­ but no room is complete without them. The use of decorative items such as vases, bowls, candlesticks and sculptures set atop tables, consoles or armoires complete your decorating project. Larger accessories may be set directly on the floor next to other furniture pieces. This is where you will highlight your third (or fourth) color selection from your color scheme.
"Design is not just what it looks like and feels like. Design is how it works." ­ Steve Jobs