According to HotPads data, the median rent for a one-bedroom in Atlanta is $1,100. If you're looking for an apartment for rent in Atlanta what you can get for $1,100 will vary greatly depending on the neighborhood.
From classic victorian single family homes in Inman Park; to modern lofts in Midtwn, we put the spotlight on some of our favorite ATL neighborhoods to show what your dollars are worth when it comes to median rent in A-town.
Midtown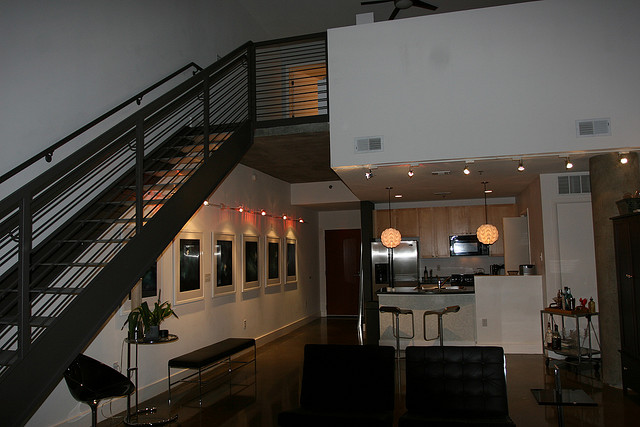 Modern, loft-style apartments are common on Midtown. Photo courtesy of Stephen Harlan. 
You might expect Midtown — the heart of the city, with high-rise buildings, top-notch restaurants, and hoppin' bars — to be among the priciest neighborhoods. However, some of the
The Winwood building, located in the heart of Midtown at 1460 Peachtree St, offers 2-bed, 1-bath, 900-square-foot apartments for about $900 / month, with parking for an additional $30.
It's an older building (from the 1930's) and lacks amenities like a fitness center or pool. It's also on a busy street. But on the plus side, it's steps from the High Museum, Woodruff Arts Center, MARTA, and a huge gamut of restaurants and bars.
Down the street, the Solace building at 710 Peachtree St. features a plush rooftop with barbeque grills and skyline views. The updated kitchens feature modern cabinets and new appliances, and the building hosts a large fitness center. You're steps from the Fox Theater, the Vortex Bar and Grill, and lots of other Peachtree Street entertainment — and your rent on a 1-bed, 1-bath, 720-square-foot apartment will cost about $1,000.
Prefer a slightly quieter neck of the woods? Head over to 450 Piedmont Ave, where you'll pay slightly more (closer to $1,200) for a 1-bed, 1-bath, 900-square-foot apartment. The building features a large swimming pool, skyline views, and massive bay windows in most apartments.
Virginia Highlands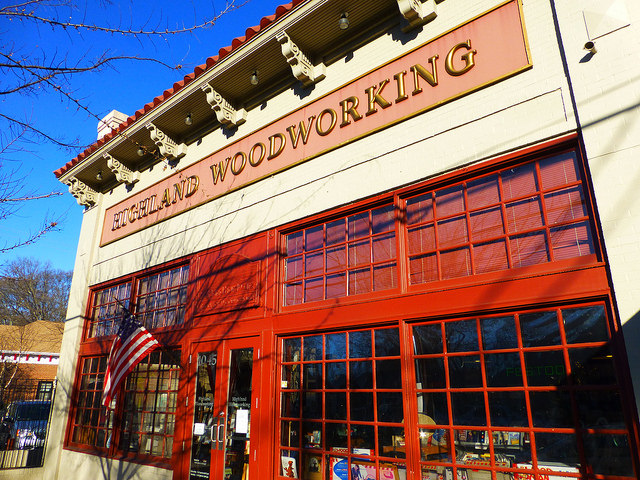 Highland Woodworking Co. storefront in Virginia Highlands. Photo courtesy of Joseph Wingenfeld.
You can't beat the location of the Virginia Highlands Apartment Homes (609 Virginia Ave) — just steps from Piedmont Park, the Eastside Beltline Trail, and Trader Joes. Here, one-bed, one-baths typically rent between $875 to $1,250.
If you prefer the quieter part of Virginia Highlands, try the Highland View apartments on Ponce Place. (You'll never forget the street names). Here, a 1-bed, 1-bath will cost between $1,100 – $1,230, and you'll be located near trendy businesses like Urban Body Studios, Spot for Dogs, Paris on Ponce, and a thriving co-working space for freelancers. Clubs like MJQ are within walking distance, and Murder Kroger (a popular grocery store with a local cult following) is a five-minute walk away.
Buckhead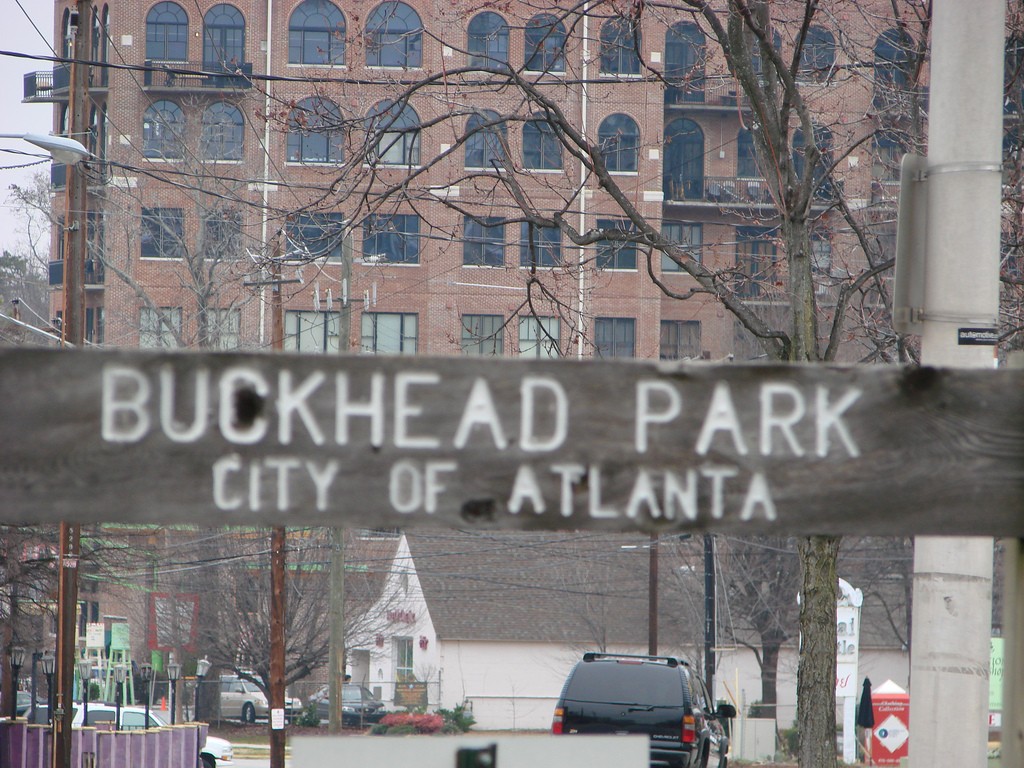 Buckhead park courtesy of Gregor Smith.
Want to move north to Buckhead? The Delmont Gardens offers 1-bed, 1-bath apartments for around $1,000, and 2-bed, 1-bath units starting at $1,200. This 28-unit building features units with private balconies, hardwood floors and large windows. As a bonus, the core financial district of Buckhead is minutes away making this an ideal living location for anyone who works in finance.
Nearby, apartments at 475 Buckhead Ave offer 2-bed, 1-bath apartments for $1,000 per month. You'll give up the hardwood floors, but gain a gorgeous swimming pool.
Historic West End
Want to become a trailblazer? One of the most "up-and-coming" new areas in Atlanta is the West End, which is ideally situated by the new Beltline trail.
If you'd like an entire single family home, you can easily find a 3-bedroom for under $900. You'll have your own yard, off-street parking, hardwood floors, vaulted ceilings and central air. You'll be just south of I-20 in the emerging West End neighborhood.
Want to stick to an apartment community? Oglethorpe Place apartments located in the heart of Historic West End near the Beltline Trail, offer one-bedroom units starting at around $800/month, and two-bedrooms that start around $900. You'll enjoy a private balcony, swimming pool, fitness center, and even an on-site playground.
Inman Park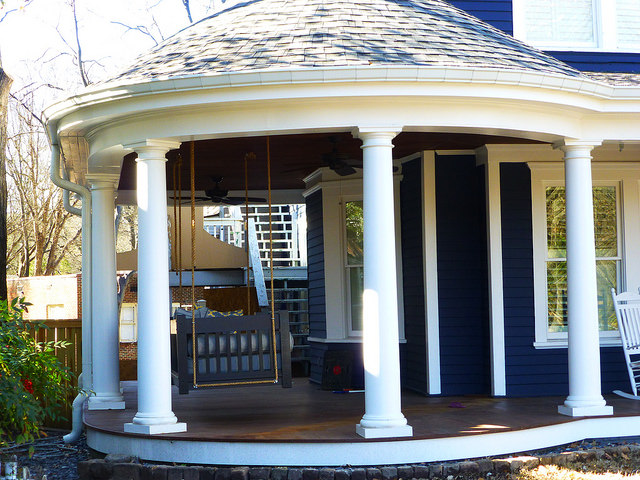 Traditional victorian houses are common in Inman Park. Photo courtesy of Joseph Wingenfeld. 
At the bleeding edge between Cabbage Town and Inman Park, you'll find the West Inman Lofts, where you can rent a 1-bed units rent anywhere from $980 to $1,700. (The upper end of the price scale reflects massive units — up to 1,602 sq. ft.)
On North Highland Ave., you can score a newly-renovated 2-bed apartment for only $1,000. This price will fetch you hardwood floors, huge closets, and a prime location that's walking distance from great restaurants like Barcelona and Sotto Sotto.
Want a more traditional home? On Edgewood Ave in the heart of Inman Park, you can rent a house within a turn-of-the-century Victorian quadraplex (complete with Southern-style wraparound front porch) for about $1,300 per month.
On nearby Druid Circle, $1,295 will get you a 2-bedroom unit in a Craftsman triplex that features exposed brick, stained concrete floors, and a roomy 1,200 sq. ft. layout.
O4W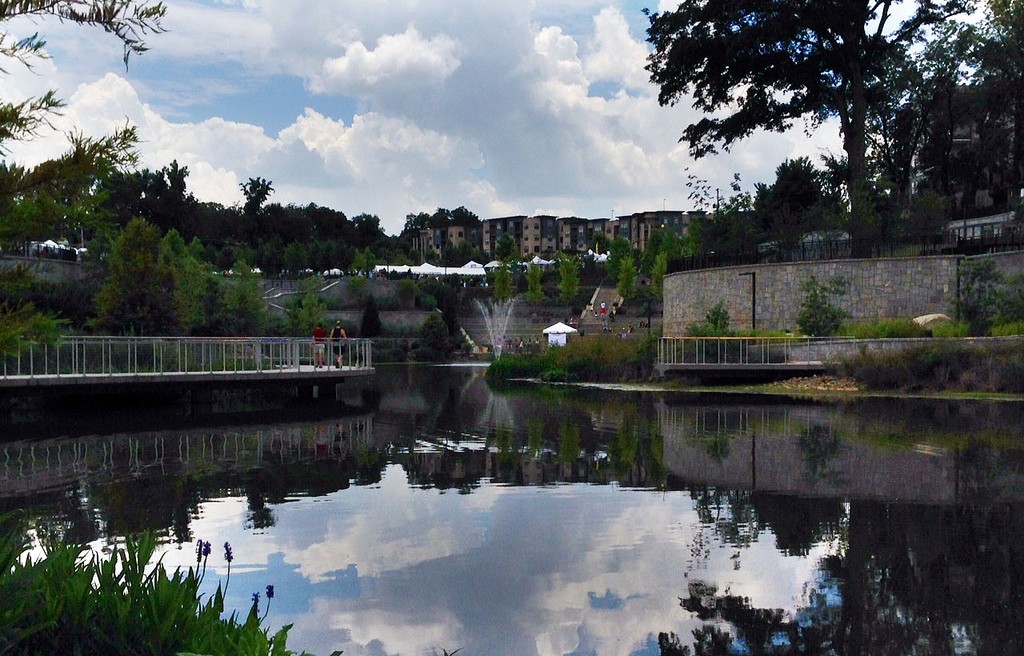 Old Fourth Ward photo courtesy of romanlily.
Last but not least, let's turn our gaze to Old Fourth Ward (O4W), which has become one of the hottest revitalized neighborhoods, thanks to its access to the Eastside Beltline Trail and proximity to hip areas like Midtown, VaHi, Poncey-Highland, Cabbagetown and Inman Park.
The Block Lofts Apartments next to the Beltline offer one-bedrooms starting at around $1,000 and two-bedrooms from $1,300. You'll enjoy stainless steel appliances, granite countertops, a pool, outdoor fireplace, grilling area, parking garage, high ceilings, and proximity to the Beltline — all in a newly-constructed building.
The nearby Spanish Oaks complex on Boulevard Place (a quiet street off Boulevard Ave) features incredible architectural detail, including a stucco exterior, Spanish-style tile roofs, an European-inspired private balconies. Here, you can rent a 1-bed apartment for under $1,000.
As you can see, the $1,000 – $1,200 price range can yield you a ton of options, ranging from modern lofts to Victorian or Spanish multiplexes. Atlanta has no shortage of great options, so enjoy shopping the various neighborhoods for your favorite combination of square footage, amenities, price and location.