If you're looking for a city with a vibrant cycling culture and lots of bike-friendly features, you can't do much better than Portland, Oregon.
Portland was named the #1 bike-friendly city by Bicycling magazine and dubbed a "platinum" bike-friendly community by the League of American Bicyclists – and when you take a look at what it has to offer, it's not surprising.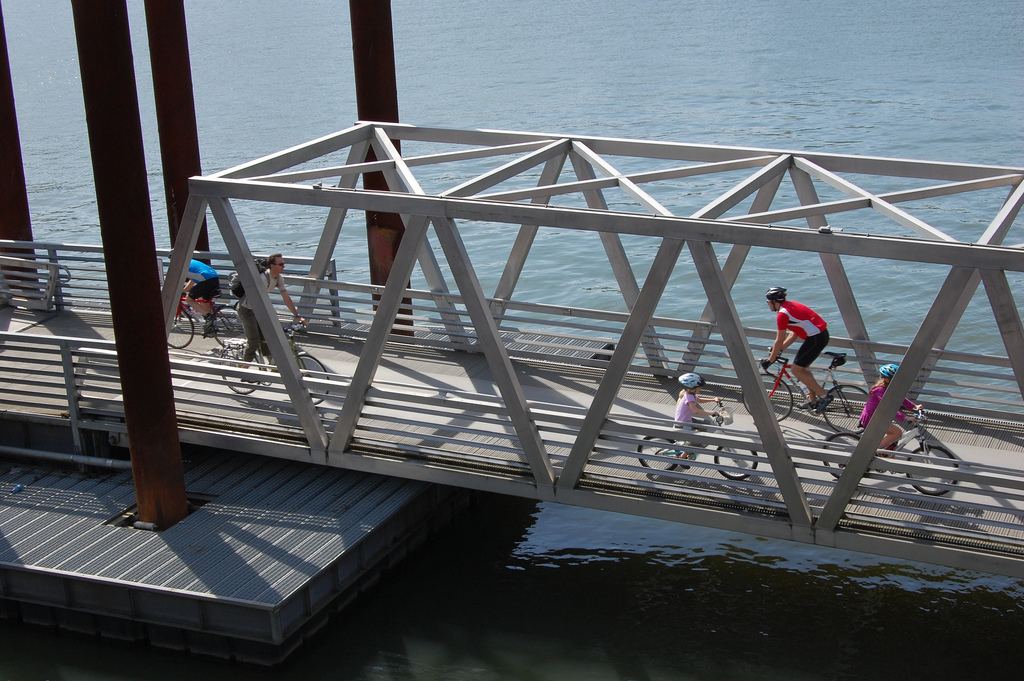 Photo courtesy of 
bjamin
.
Bike Trails Aplenty
Portland boasts 319 miles of bike trails, with plans to add 50 additional miles of trail over the next few years. No matter what your skill level, there are lots of options to keep you and your family busy.
Kid-friendly trails include Fanno Creek Park in the Garden Home neighborhood and Leif Erickson Drive in Forest Park. Mountain bikers will enjoy routes like the Sandy Ridge Trail System just west of Mount Hood and the Springwater Corridor through Gresham. For some of the top rides according to the Portland Bureau of Transportation, check out these detailed maps.
Image courtesy Flickr / wittco.gmbh
Portland Ranks High in Cycling Safety
The Alliance for Biking and Walking recently released a comprehensive report on walking and bicycling across the U.S., noting that Portland ranked well in terms of overall safety. There was only one cyclist fatality in Portland for every 10,000 bicycle commuters between the years 2009 – 2011.
In addition to relative safety, Portland also offers a large network of existing cycling lanes and trails. The city ranked fifteenth in the Alliance for Biking and Walking report for total square footage of bicycle infrastructure in a large city, with about 2.5 miles of on-street bicycle lanes per square mile and 3.0 miles of multi-use paths (i.e., paths shared with pedestrians and skaters) per square mile.
The Portland Bureau of Transportation has worked hard to create a city that is truly bike-friendly. From bike-specific traffic signals that help regulate the flow of traffic to bicycle boxes that raise cyclist visibility at intersections, it's no wonder so many cyclists take to the streets in Portland. (Want an idea of how popular cycling is? There are 5,000 public bike racks to keep up with the demand.)
Image courtesy Flickr / Chunk666PDX
Diverse and Active Cycling Culture
Whether you're a casual weekend rider or a hardcore fitness buff, you'll find plenty to do in Portland, and plenty of like-minded cyclists happy to do it with you.
Take part in Sunday Parkways, a series of city-wide free events with food, exhibits, kids' activities and more that showcase communities from Woodlawn to Hillsdale. Or check out one of the many (many) event you'll find through Bike Portland, Ride Oregon or one of the city's bike clubs.
For something truly unique, try out "Zoobombing," a weekly Sunday ride that speeds through the hills of Washington Park on deliberately tiny bicycles (think: adults riding kids' bikes). Why? Zoobombers would answer: Why not?
Image courtesy Flickr / Mike Merrill
Commuting
Portland leads the nation when it comes to bike commuting. According to a May US Census Bureau report, Portland has the highest percentage of bike commuters among 15 major US cities, clocking in at a whopping 6.1 percent. (The next highest commuter city, Madison, WI, only has 3.4 percent.)
Fitness tracking app Strava recently released this fascinating heat map to show the most popular bike routes in the city, from downtown all the way out to the suburbs:
Click here to view the full interactive map.
You can also search for specific routes, check out the interactive bike map from the Portland Bureau of Transportation, and create your own route using the TriMet Tip Planner.
Cover photo courtesy Flickr / Justin Watts
At HotPads we love everything biking. Check out all of our resources and stories about urban biking.