Los Angeles is known for its palm trees, celebrity sightings and amazing weather — but it also has a reputation for congested traffic. Fortunately, some LA residents are choosing to avoid the crowded highways by cycling around town, instead, and the city is making strides to become more bicycle friendly (just check out this map of every single bike shop within LA if you need proof of popularity).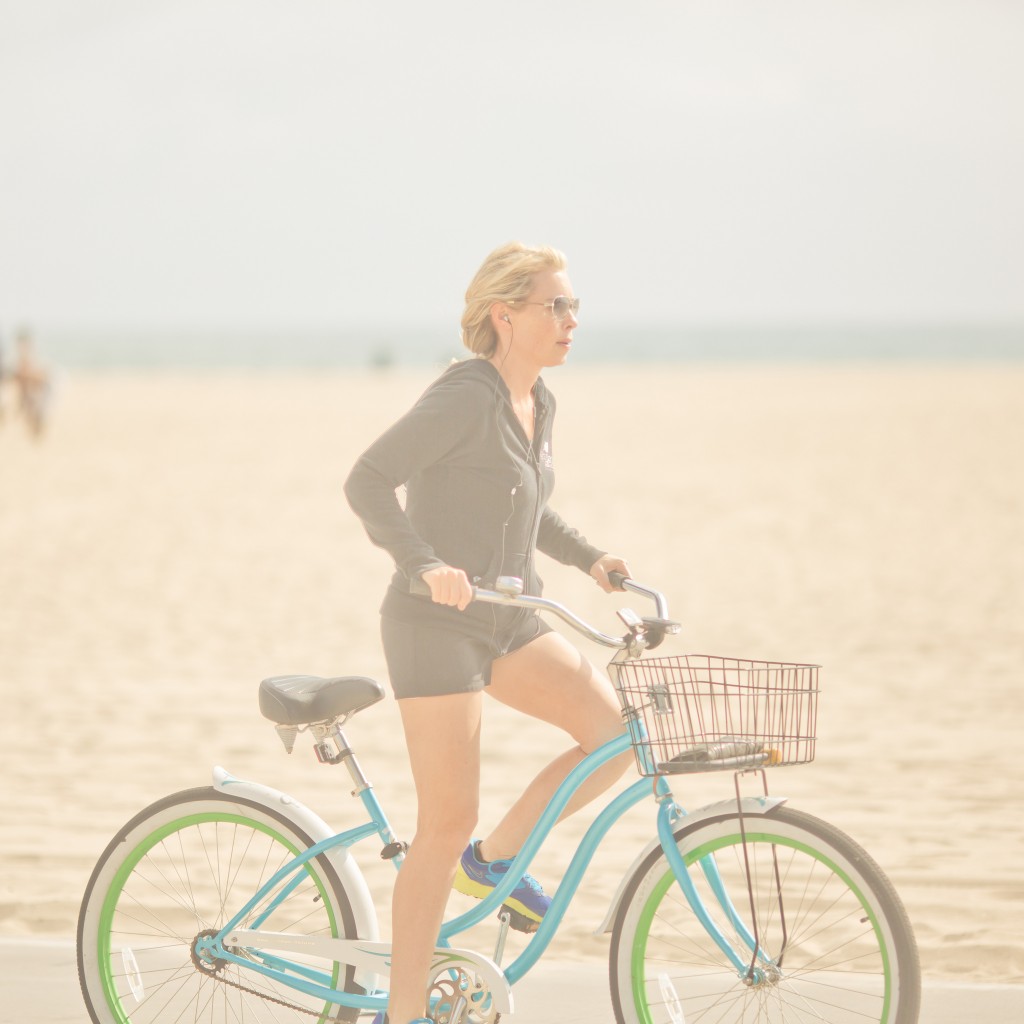 Photo courtesy of 
Thomas Hawk
.
Let's take a look at what cycling in LA is really like:
LA Cycling Safety
Let's address the complaints first. LA has been under fire for the large number of cyclist accidents that have occurred over the past several years. In 2009 alone, nearly 3,800 accidents were reported involving bikes, and 22 of those resulted in fatalities.
Part of the blame lies in a lack of designated biking areas to keep cyclists protected. According to a comprehensive report on walking and bicycling across the country recently released by the Alliance for Biking and Walking, LA ranked low (31st in the nation) in terms of square footage of bicycle infrastructure in a large city, with only about 1.0 mile of on-street bicycle lanes per square mile, 1.1 miles of multi-use paths (i.e., paths shared with pedestrians and skaters) per square mile, and 1.5 miles of signed bicycle routes per square mile.
In addition, traffic in LA is notoriously aggressive, with drivers who speed, follow too closely and are often distracted by things like cell phones.
The good news is that the high number of accidents has driven local and state government to take a hard look at cycling conditions in LA and make some moves to improve them. California has required drivers give cyclists a three-foot buffer when passing (in the past, it required only a "safe distance," which was up to driver interpretation).
The city of LA has adopted a Bicycle Plan that will increase the number of bike lanes, create Multi-Mobility Hubs for cyclists and work to spread greater public awareness about safely sharing the road with bikes. The LA Department of Transportation even has a section on its website where you can request improvements like bikeway maintenance and better signal detection for cyclists.
Image courtesy Flickr / Channone Arif
Exploring LA Cycling
While plans are underway to develop more bike trails in the near future, there are plenty of great routes already in place if you're in the mood for a ride along some scenic backdrops.
Check out the beautiful Marvin Braude Bike Path, which runs along the ocean shoreline from Pacific Palisades to Torrence. The Ballona Creek Bike Path runs for 7 miles along the beach, starting in east Culver City, and the Glendale Narrows / Elysian Valley Bike Path also runs 7.4 miles and features views of the San Gabriel Mountains. The lower part of that trail begins in Atwater Village, while the upper part passes through the Glendale Narrows. Visit on this interactive bike path map for more ideas.
You can also get involved in the LA cycling community by checking out organizations like the Los Angeles County Bicycle Coalition and the Los Angeles Wheelmen, where you can learn about initiatives, upcoming rides and more.
Commuting
Experts have hypothesized that one of the reasons bicycle accidents have surged in recent years is because more and more LA residents are opting to commute to work, for reasons ranging from the cost of owning and maintaining a car to a desire to reduce their negative impact on the environment. From 2008-2012, the percentage of Los Angeles residents who bike to work increased from 0.6 percent (the national average) to 1.0 percent according to the U.S. Census Bureau.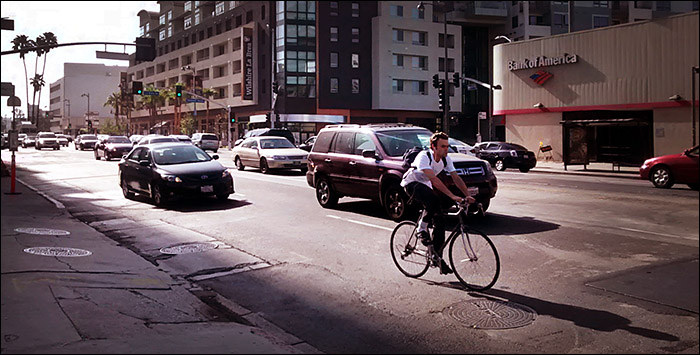 A biker braving the morning commute on Wilshire Boulevard. Photo courtesy of 
Richard Risemberg
When riding in urban areas, make sure to be vigilant about observing basic safety rules, like riding with the traffic, obeying all traffic signs and signals, and using lights / reflective clothing to make yourself more visible when riding at night. Take special care on streets that are known to be dangerous for bikers, including Olympic Boulevard, Venice Boulevard and Sunset Boulevard.
Fitness tracking app Strava recently released this fascinating heat map to show the most popular bike routes in the city, from downtown all the way out to the suburbs:
Click here to view the full interactive map.
You can also search for specific routes and download additional bike maps from the LA Department of Transportation.
Cover photo courtesy of Matt McGrath 
---
At HotPads we love everything about biking. Check out all of our resources and stories about urban biking.