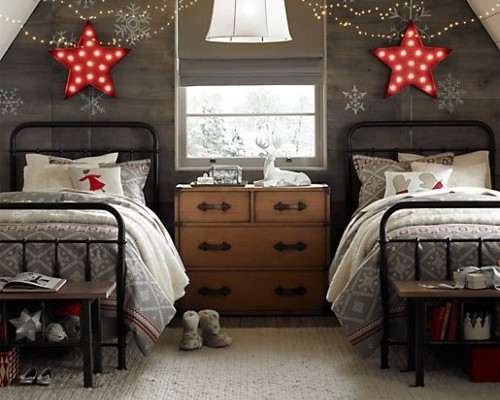 Decorating for the holidays is about spreading the spirit of cheer throughout your home, even in the most unexpected places. With a few tweaks and the creative use of Christmas ornaments and accessories, you can fill even the most neglected spaces of your home with holiday cheer. From your entryway to your bathroom, check out these Christmas decorating ideas to perk up any space!
A Classic Display for the Shelves
Don't take your shelves for granted when decorating for the season. With a bit of organization and some festive accessories, you can liven up your shelf space in an instant.
Wreaths for the Bookshelves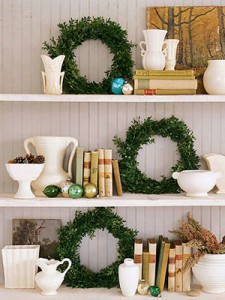 Small wreaths are the perfect holiday accessories for your bookshelves—a great example of how you can add color to your shelf while complementing the room's other Christmas decorations! You can also display sparkly ornaments for a festive look, or put pinecones in a bowl for a rustic display.
Christmas Ornaments for the Hutch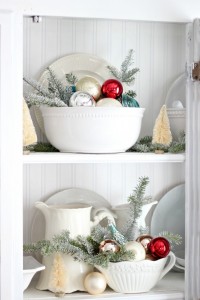 You don't have to do some major rearranging to decorate your hutch for the holidays. Just put some Christmas baubles in a bowl, add some decorative greenery, and bring in some bottle brush trees, and you'll have a refreshing holiday look! You can also use your gravy boats or water goblets to change up the display. Check out this decorating idea from Unskinny Boppy.
Bright and Festive for the Kitchen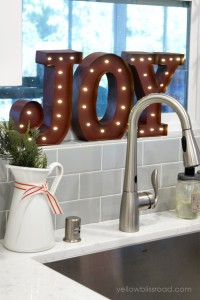 The kitchen is often a place of activity, and when decorating the space, you have to think about how the traffic flows around the room. Marquee letters are bright, festive, and can fit above the sink, which make them a simple yet effective way to bring cheer to the kitchen! Check out this idea from the Yellow Bliss Road to find out how you can get the look.
Simple and Creative for the Bathroom
Decorating the bathroom for the holidays can be hit or miss. You can make your bathroom holiday décor a hit with simple decorations used creatively!
Old Sled as a Shelf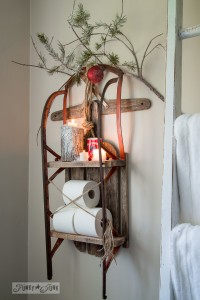 Turn an old sleigh into a rustic shelf using this tutorial from Funky Junk Interiors. It's simple and functional, and offers festive shelving you can use beyond the holidays! A few red accents make the sled more Christmas-y, as well as the red Christmas bauble and greenery attached to the top. Add a couple of battery-operated candles for ambient lighting and you're done!
Holiday Shower Curtain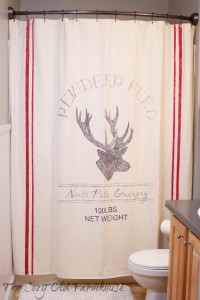 Go all out with a holiday shower curtain to match the season, like this reindeer shower curtain from The Cozy Old Farmhouse. Using a holiday curtain adds character and a spot of cheer to the space without going overboard.
Complete Christmas Display for the Master Bedroom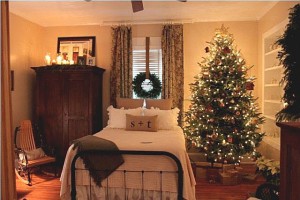 Christmas trees are typically displayed in the family or living room, but not for this Victorian home as toured by Between Naps on the Porch. If you have the space and an extra Christmas tree, you can turn a corner of your master bedroom into a cozy holiday hub. Give your bedroom tree display the full ensemble of accessories, including ornaments, lights, and a tree topper. You can also add a few gifts under the tree to complete the look!
Brilliant Lights for the Kids' Bedroom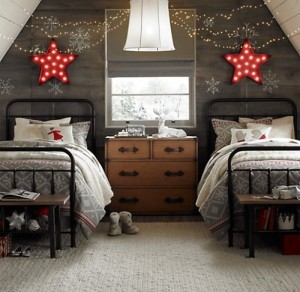 Get the kids really excited for the holidays by decorating their room with lights! Put snowflake decals on their walls, and then display battery-operated stars above their beds for a starry winter bedroom. It's a clean yet brilliant display that's perfect for the little ones!
Create a festive look anywhere in your home with these unexpected Christmas decorating ideas! Which one is your favorite?
Jennifer Lutz writes about all things home-related for the Christmas Tree Market blog.