Just when you think you've done all of the holiday decorating you could possibly do, we've found another area of your home you might not have paid homage to in the past: the chandelier!
As a statement piece in any room, the chandelier can be the cherry on top of your Christmas decor. Decorating your chandelier for the holidays is also a great way to spruce up your space if you're on a smaller budget or working with less square footage. From twigs and greenery to ribbon and ornaments, we've come up with three cheery and creative ways to decorate your chandelier for the holiday season.
Seasonal Shading
If your chandelier houses individual light shades, consider swapping them out for something more festive. Here, we've switched the normal beige linen shades for a bright and bold red hue. Bringing the focus upward with fun holiday colors and decor also creates the illusion of more vertical space in your home. Add even more interest with a sprinkle of greenery, some ribbon, and your favorite holiday wish.
Ornamental Elements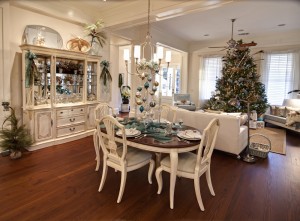 What's Christmas without a few ornaments? If you have a few extra baubles after dressing the tree and are working on a tight holiday budget, consider hanging them from your chandelier. Tie delicate string, garland, or ribbon through the ornament's loop and hang from different levels of the chandelier to add dimension and extra glitz. Our favorite color pairing (in addition to the go-to red and green combination) is a light and bright gold and ivory palette for a fresh spin on a holiday classic.
Go Green
One of our favorite trends this holiday season is the celebration of natural greenery. From pine garland to sprigs of holly, this Christmas is all about fresh foliage. Translate this to your dining room chandelier by cascading freshly cut branches of pine and fir through the arms of the fixture. Use twigs and pinecones to add a little warmth throughout the branches, make sure none are directly attached to a light source, and "Voila!"—a fresh and fashionable Christmas chandelier.
Decorating a chandelier is a fun and easy way to add a little Christmas cheer to your home without going overboard and breaking the bank. Personalize it with your favorite Christmas color combination and holiday elements, and don't forget to pass on your most cherished decorating tips to your friends and family this season!
Interior designer Kerrie Kelly enjoys decking the halls, and just about every other room in the house, with holiday cheer. Kerrie's been dispensing end-of-year décor advise to her clients of Kerrie Kelly Design Lab since 1995. To research Home Depot's collection of home chandeliers, you can click here.