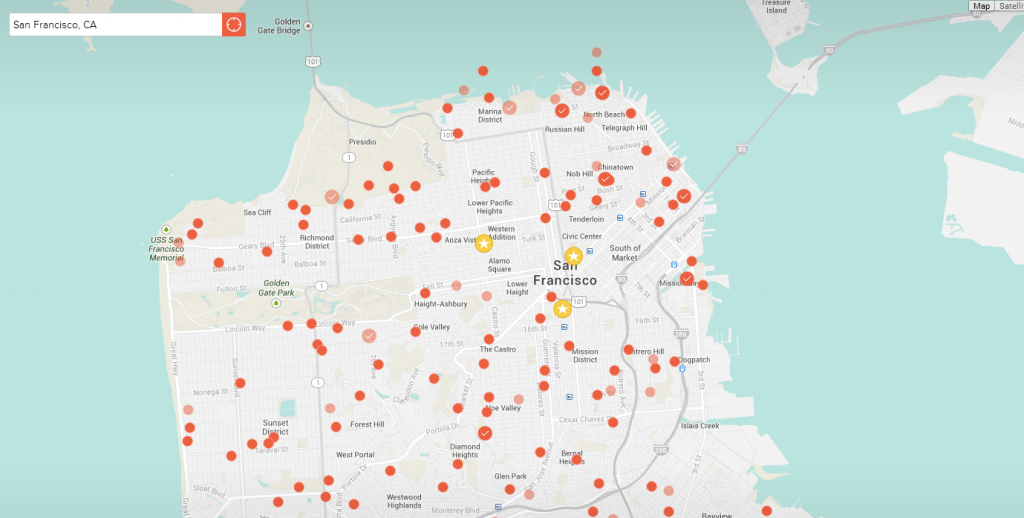 Moving to San Francisco? Welcome! Whether you are moving across the country or just up from the South Bay, knowing the lay of the land in the 7×7 is important to a successful move. Which neighborhood should you live in? How do you plan to commute to work, and therefore where should you look for a place? How do you avoid the fog belt when Karl (that's the fog's name) decides to come rolling in?
San Francisco is an amazing city with many great restaurants and bars as well as sights to see and parks in which to hang out (or to take Fido). But as you likely already know, San Francisco is expensive and a tough housing market.
Here are some tips to help you make the move easier.
How To Pick Your Neighborhood
Every San Francisco neighborhood has its own culture and flavor. Some neighborhoods are very hilly, others very expensive or party-centric, and others still are up-and-coming yet already a great place to live.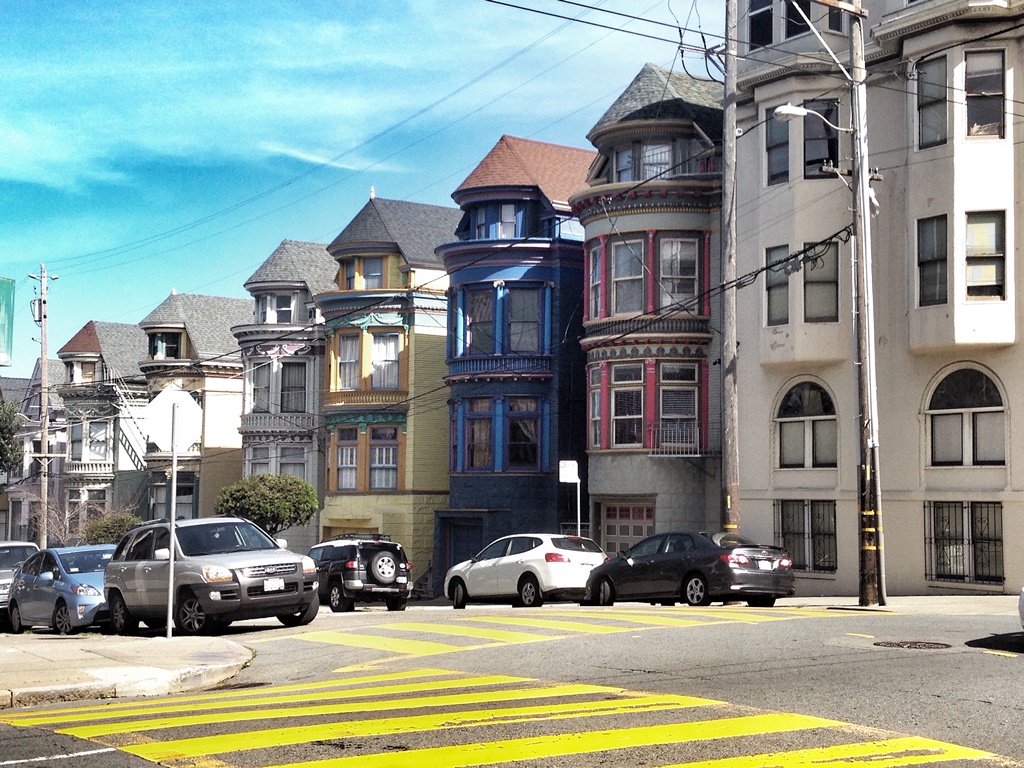 When considering a neighborhood, consider your personal needs (children, dogs, parks, transportation, access to outdoor space, bars) and look at each of these for your potential hood:
What's the Walkscore? Every listing on HotPads contains the Walkscore number, according to Walkscore.com
Where are the parks? Is there outdoor space readily available within a few blocks walking or an easy bike ride?
What about hills? Some San Francisco neighborhoods are very hilly and would not be good for children or those with bad knees.
What about parking? Parking can be difficult in San Francisco if you do not have a dedicated parking spot, which are difficult to find.
How's public or company-sponsored transportation? Like them or not, the Muni and tech buses are a part of life for many in San Francisco. Be sure to check Google Maps for nearby transit lines, and be aware that rents are higher where tech buses have stops.
San Francisco is a microclimate, which means that the weather differs from that of surrounding areas and, in SF's case, the rest of the country. Summers are generally colder, with our version of Southern California's June Gloom extending through August. Winters will alternate between 65 and sunny, and rainy (which, as any SF local knows, is a good thing – snow in the Sierras!). Spring and Fall are usually a safe bet for dry, mild, sunny weather. Regardless of the season, in San Francisco you can be pleasantly surprised by an 80-degree day any time of year.
The combination of the microclimate, the topography of the city, and the geography surrounding Northern California, the fog can sometimes gobble up whole parts of the city. Because of these pockets of fog, some neighborhoods are known for having better weather than others. For example, The Mission is known as the "Sunny Mission", while neighborhoods like The Inner Richmond, The Sunset, and The Presidio can all be covered in fog for days on end. Here is a great fog line map from the folks at FarOutCity.
Here are three key takeaways to remember about San Francisco weather, regardless of which 'hood you decide to call home:
1- It will not rain between the months of April / May through October / November. It just, won't. And thunder storms? You may as well forget they exist.
2- Be prepared to be pleasantly surprised with an 80-degree day any month (or day, for that matter) of the year.
3- Don't leave the house without a jacket. Remember that, and you'll look like more of a local than the natives.
Questions to Ask SF Landlords
San Francisco's rental laws are unique, like all cities. Therefore, in addition to the common questions to ask landlords, you should also ask these:
Is the unit rent controlled? Most San Francisco units are, but you should confirm this with the person showing you the unit.
How is public transit? Many landlords will be happy to tell you about the transit lines available.
Do they accept pets or can pets be negotiated? Sometimes landlords will make special concessions for you if you ask nicely.
Which Internet providers are available in the building? Often the landlord will have a deal with a specific Internet provider that they can give you as their tenant.
Public Transit
Let's face it – San Francisco public transit is not New York City public transit (or even really comparable to other major cities), but the Muni is what we have been given so thus it is what we will use. First, learn the lingo:
BART – the trains that are reminiscent of the Washington DC Metro that run from the East Bay into SF and down to the SFO airport. BART is great for commuting into the city from the East Bay, if you live in the Mission, or if you need to get to SFO and have time to take the train.
Muni Train – trains that run from Embarcadero (on the east side of SF) to the west side down Market Street. A few trains, such as the N-Judah, branch off and go to other parts of the city.
"MUNI" – the buses that wind through the city to take you from place to place. To reduce emissions, many buses run on the wires that you will see hanging above San Francisco streets. Also referred to as the "Muni bus".
Other popular ways of getting around San Francisco include biking (familiarize yourself with The Wiggle if you live in the Western Addition), Uber (or other car services like Lyft or Sidecar), and walking. Since San Francisco is only 7 miles by 7 miles, it is a very accessible city to walk if you can deal with the hills.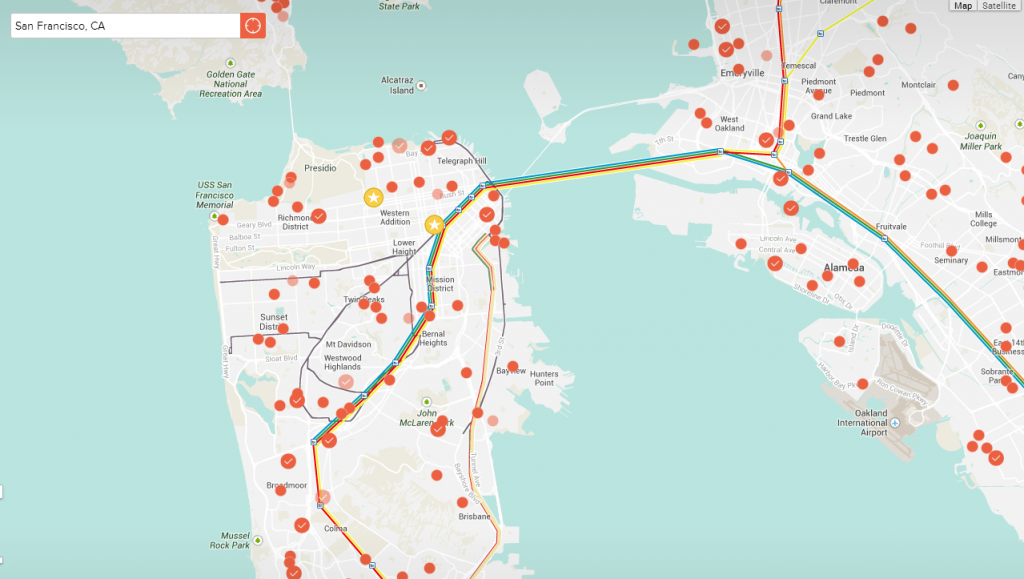 Cool Places to See Upon Arrival
San Francisco is full of hidden gems, but the best ones to check out in your first days in the city include:
The Presidio, which is a former military base and now one of the best places to experience wide open and beautiful scenery in the city;
Golden Gate Park and the Panhandle. Golden Gate Park includes a beautiful conservatory, numerous open fields, and even a polo pitch. The De Young Art Museum is also located inside the park.
Alcatraz, while a tourist destination, is also well worth the tour.
Ferry to Sausalito and back. This is San Francisco's version of New York City's Staten Island Ferry, though Sausalito is also a great place to stop for lunch and a walk around town.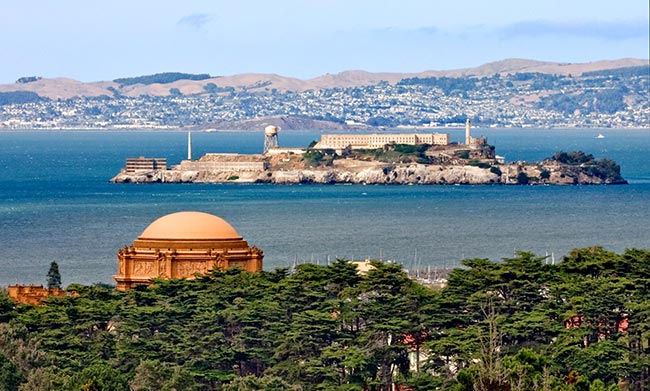 Photo Credit: 
iNeTours
Insider Tips
As with any city, you need to know the local tips for maximizing your life in San Francisco. Here are our favorites: – Always bring a light jacket with you. San Francisco's weather is unpredictable at best during the summer, though we do enjoy a wonderful Mediterranean climate most of the year. If you are outside past 5pm, you will want a hoodie or light jacket. There is a reason San Francisco startup employees are always pictured wearing hoodies! – Blue Bottle Coffee is delicious. It's based in the Embarcardero (the ferry building) which is always quite packed, but many coffee shops in SF serve their coffee. Other brands to check out – Four Barrel, Ritual, Sight Glass. One of our favorite coffee shops is Stanza Coffee, with locations in both The Mission and Haight-Ashbury. – The East Bay is actually really cool.  Some people call Oakland the "Brooklyn of San Francisco", which according to our resident ex-Brooklynite is an apt description. The rents are slightly cheaper, the restaurants are just as good, and the weather is less foggy and generally warmer. – Yosemite is worth the long drive. If you've never been to the Sierras, Yosemite's majestic granite walls will make even the hardiest non-climber envious of their beauty. In the winter you can find both cross country and downhill skiing available, though in the summer the crowds become heavier and campsites are hard to procure. If you win the lottery to be allowed to hike Half Dome, be sure to take the opportunity! – You should buy a bike. It's the quickest way to get around town. – Don't ever call it "San Fran", "Frisco", or anything else you can come up with. People who live here call it "San Francisco" or simply "SF". – The best classic burrito is in the Mission at El Farolito. The best fancy burrito is The Little Chihuahua in the Lower Haight or Mission.
---
If you're looking for a place to rent, check out our San Francisco apartments for rent. With over half a million rental listings nationwide, we'll have a place for you!
Further San Francisco Reading