When it comes to being organized, it's not just about color coding your filing cabinets and separating your pens from your pencils. Although those little details can certainly be useful and, for some of us, necessary, there are more strategic ways to go about your reorganizing—and they're all simple, too.
Organize it Your Own Way
Let's face it, not all of us are the Martha Stewart we wish we could be. But comparing your method of organizing to what you see in magazines, online, and on television simply isn't realistic. If you are generally organized and find that the sprinkling of clutter on top of your desk and in drawers is what ends up turning into a mess, then design around that to address the issue. Try collecting clutter with a desktop tray that acts as a handy catch-all, or combat those rogue papers by giving them a designated file folder where you can toss things temporarily. After all, this is what you call "organized chaos," right? Make it work for you, stick to it, and you'll be that much closer to a page in Martha's magazine.
Address the "Problem Areas"
Approaching your reorganization project with the right mindset is everything, says Psych Central. "Starting is often the hardest part, so go with what's motivating to you. For instance, some people are motivated by tackling the toughest task first." This way it'll be more rewarding to start organizing because it comes with the added benefit of knowing that it will actually alleviate stress instead of creating it—plus, who doesn't love that feeling of accomplishment, no matter how small? Think about what you can get done right now instead of feeling overwhelmed by the whole endeavor and getting little to nothing done at all.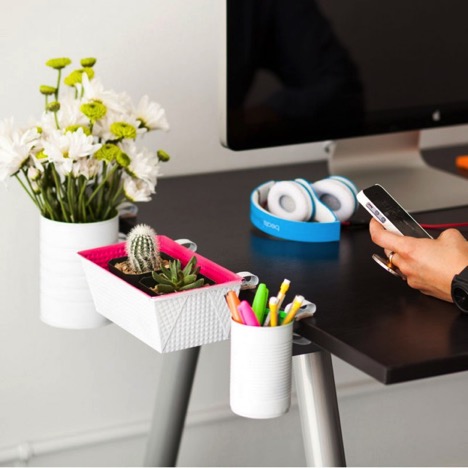 Be Creative with Your Storage
If it's space that you lack, finding and utilizing dead space in your home office can feel like a complete remodel, a topic that we at Modernize know and love. Create storage space above and below your desk by using shelving units overhead for smaller items and even small to medium sized bins to keep things within reach and out of the way. Using sliding crates, magazine holders, or just stacking colorful organizing bins beneath your desk is a great hideaway for what would otherwise be loose papers. Don't have room for shelves? Clip-on desk organizers hold small items and instantly clear up your workspace. Who said getting organizing wasn't easy?
Reassess Your Space
Let's face it, sometimes a reorganization turns into an uprooting. If your desk's drawer is permanently broken and that chair is way too big, swap the old for the new or even move your furniture around. A fresh perspective can work wonders on the way that you interact with your space and maybe even inspire some other organizing techniques that would make Martha proud.