Rent prices are trending up again after a brief respite last summer. With prices higher than ever across the country, many renters are taking matters into their own hands by changing where they look for housing. Renters in some of the nation's most expensive markets have begun searching elsewhere, with cheaper options eating up a large share of that shift.
The New York metro is a prime example of a high-cost market that has seen renter interest wane relative to other areas being searched on HotPads. Last year, New York was the third most searched metro, but one year later, the nation's biggest metro has slid to their seventh most searched area. New York's share of searches originating from within the metro fell by 0.7%.
Renters' flight from New York is backed up in the most recent Census data, which showed population declines in both New York City and state. The five biggest beneficiaries of New York's declining search popularity are the Boston, Providence, R.I., Hartford, Conn., Jacksonville, Fla., and Atlanta metros – all of which have significantly lower rental costs than the Big Apple, save Boston which is slightly more expensive.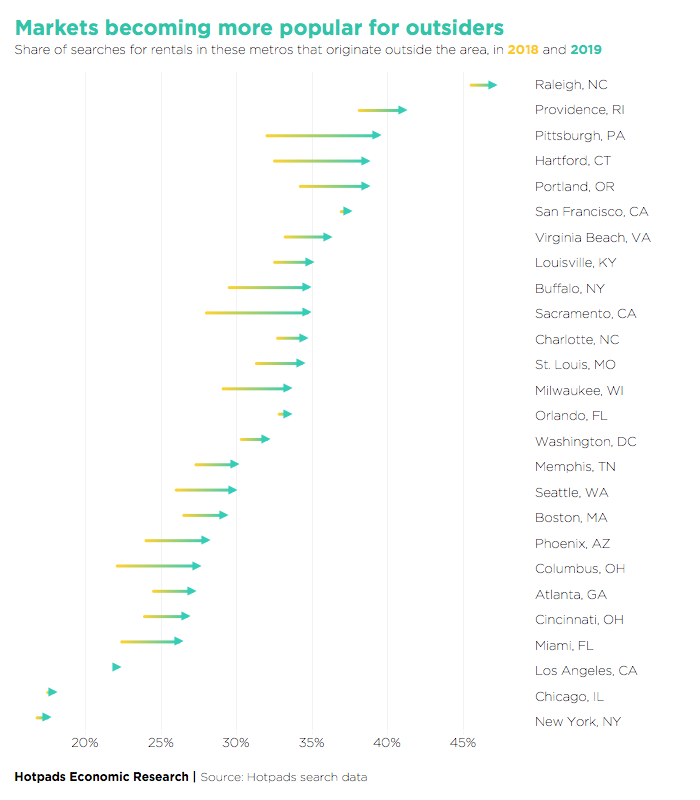 Los Angeles is another high-cost metro where there was a decline in the share of rental searches originating from within its borders – a sign that people are looking to leave. Sacramento benefited the most from that drop in L.A., posting a 1.4% boost in the share of searches coming from Angelinos. It's followed closely by Salt Lake City.
Renters are not interested in just lower prices; they're also chasing jobs. The country's most expensive rental market, San Jose, Calif., still holds allure among renters looking for high-paying jobs in one of the most innovative parts of the country. The metro actually saw more of its own searches originate within the metro itself compared to last year – and it notched an increased share of searches from other metros including Boston, Dallas and New York.
Denver, another top-dollar market, saw an even more substantial increase: 66.5% of searches for Denver rentals originated from the area, up from 60.7% last year. It also marked a boost in the share of searches from more affordable areas including Fort Collins, Colo., and San Antonio. Then there were the Angelinos again, who represented a larger share of Denver rental searches than a year ago, which makes sense given that L.A. rents are over $800 a month higher than Denver.