As peak rental season approaches, it's time for our Q2 2018 HotPads Rent Report. Our data shows that renters searching for a new home this summer can expect higher prices than last year, particularly among two and three-bedroom rentals.
Rent prices rose 2.8 percent over the past year among both two-bedroom and three-bedroom rentals. Renters can expect to pay $1,310 per month for a two-bedroom unit and $1,445 per month for a three-bedroom unit. In comparison, renters can expect to spend about $1,275 per month for a one-bedroom unit, up 2.2 percent over the past year.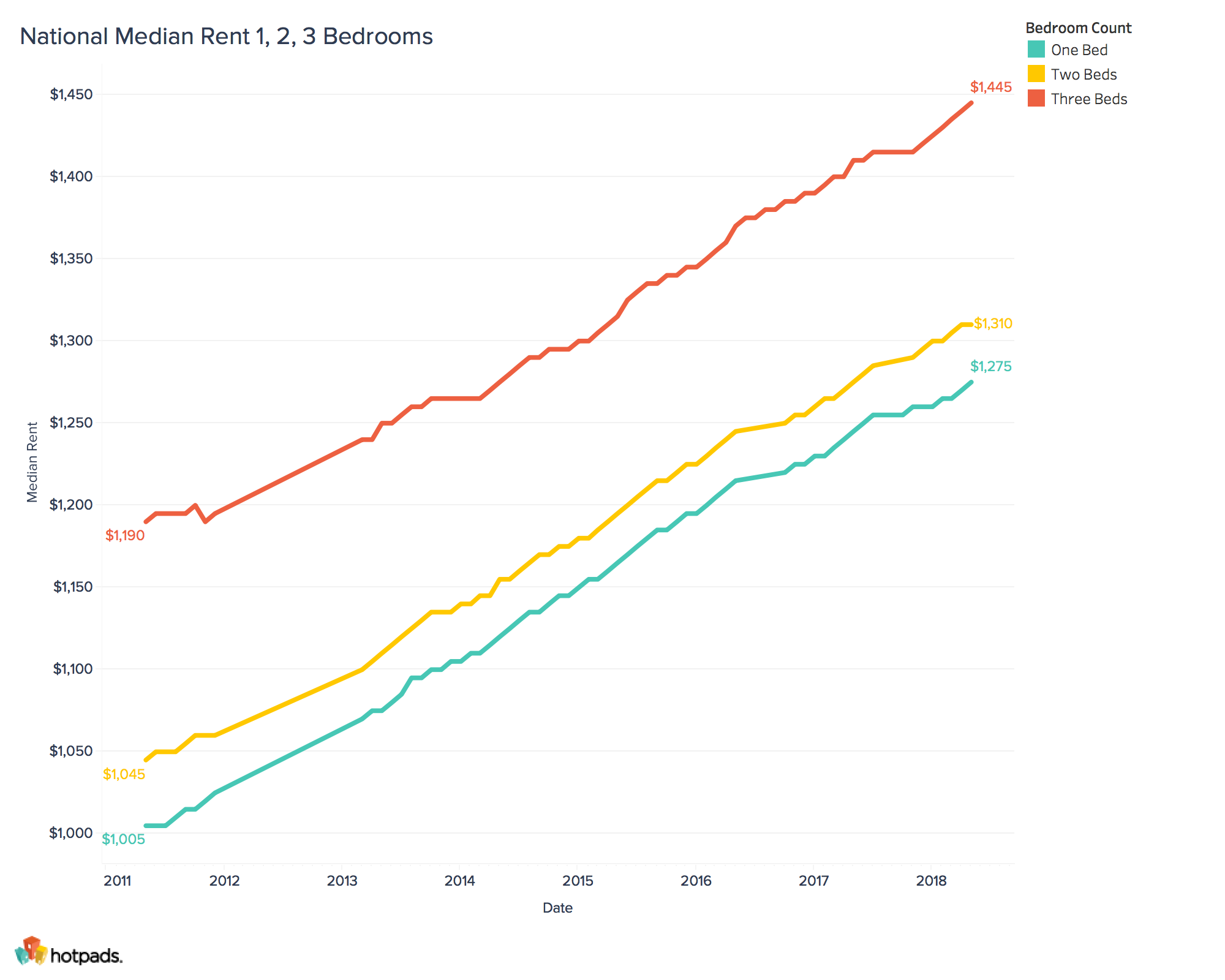 Overall, median rent in the U.S. is $1,480, up 2.5 percent from a year ago. As rent continues to rise, it's becoming more difficult for renters to keep up with costs. With rent among two and three-bedroom rentals rising the fastest, renters who need more space face an even tighter affordability crunch.
"Rent growth has mellowed out to a steady rate recently, but overall prices are still high compared to recent years," said Joshua Clark, economist at HotPads. "Two and three-bedroom rentals are seeing the fastest pace of price growth this year, usurping one-bedrooms as the fastest-appreciating segment of the rental market in April 2018. New apartment construction tends to focus on studios and one-bedrooms, so the additional supply of smaller units has eased price pressures in that market segment. Renters looking for a larger apartment or home – including young families – should expect faster rent growth this year."
Two and three-bedroom rents are outpacing one-bedroom rents by a wider margin in some metros with more new apartment construction. For example, in Baltimore, Washington, D.C., and Austin, median rent for a two or three-bedroom home is appreciating more than twice as fast as rent for a one-bedroom home.
Though two and three-bedroom rents are appreciating quickly, the financial incentives for living with a roommate remain strong. Sharing a two-bedroom rental with one person is still about half the cost of renting a solo one-bedroom unit.