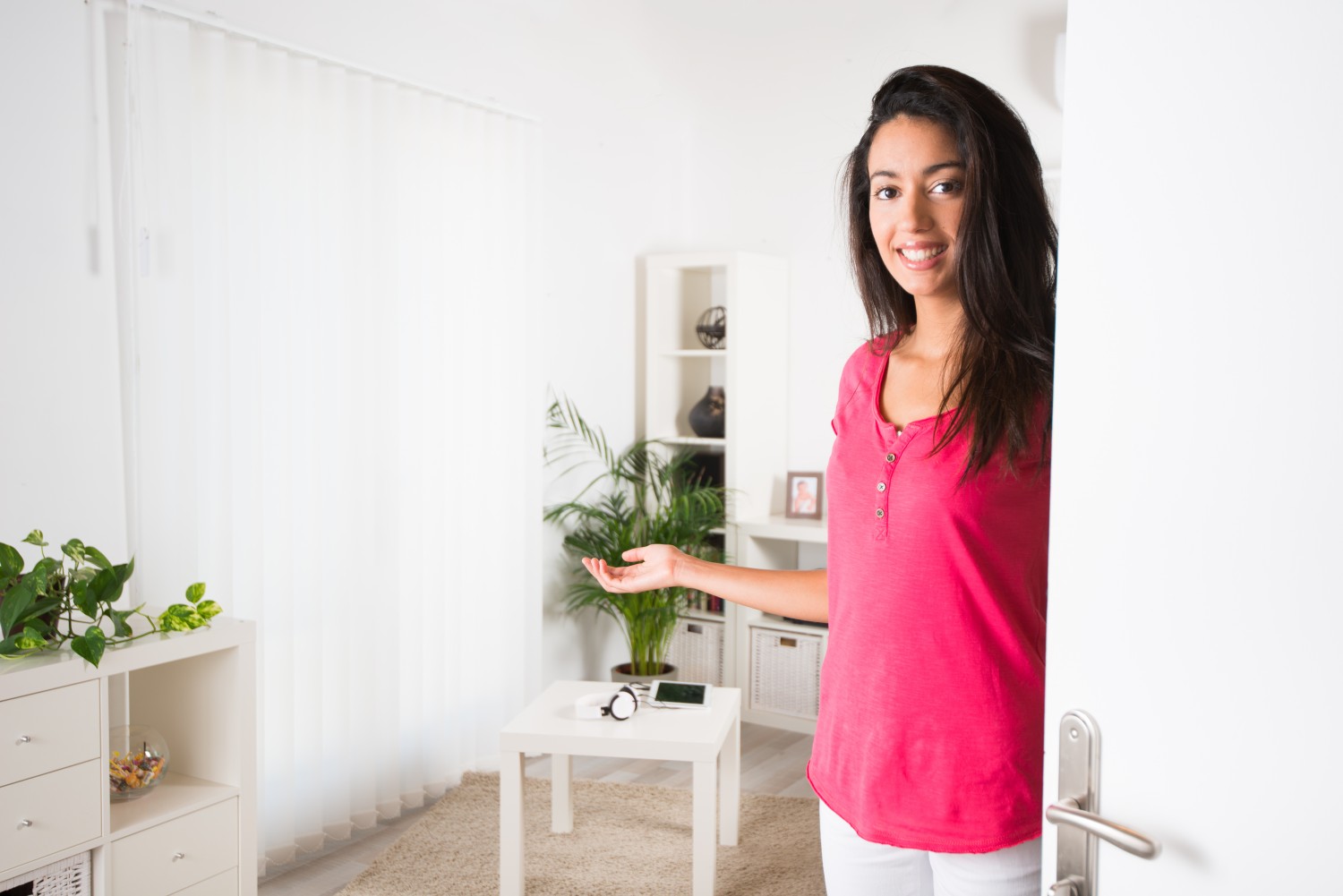 Bust out that suitcase and pass the sunblock – vacation season is almost here! If you're lucky, you may find that far-away friends and family want to use their summer days off to play tourist in your city. Hosting overnight guests may seem daunting, but a little planning goes a long way in making them feel at home. Snuggle up, share the Wi-Fi password, and follow these tips to host a successful staycation with your pals.
Stow their stuff
The first step is clearing some space for your guests to settle in. They should have a dedicated, ideally private place to store their suitcase where they can get into and out of it easily. Some great options for temporary storage include under the bed or sofa, or on the floor of a coat closet. If every nook or cranny in your place is full, create a makeshift space up against a wall or in a corner by rearranging furniture.
To reduce wrinkles and constant suitcase use, offer up hangers and closet space for your guests to store their most precious garments while in your home. If closet space is limited, door frames and handles work well for temporary hanging – just make sure garments don't get smashed when the door is in use. You can also clear out a drawer in your dresser or in an end table for stashing foldable clothes or essential supplies that your guests need to access quickly.
Point out the essentials
If you live in a small space, you likely have some sort of organizational system in place to keep your belongings tidy. While you're familiar with the odds and ends of your apartment, your guests may not find your setup as intuitive. There are few feelings more awkward than needing to replace the toilet paper at someone's house and not being able to find another roll.
Spare your guests the nightmare. After everyone settles in, take a few minutes to show guests how you have everything organized and where they can find the essentials – including extra towels, spare bed linens, toiletries, basic cleanup supplies and cups or dishes. Your guests may need these items when you aren't around, so it's nice to show them where things are before they even have to ask.
Help them hit snooze
Chances are you don't have a spare room, meaning the living room or your own bedroom are likely the best options. The nicest thing to do as host is to take the modified sleeping arrangements yourself if you can. But whether or not you stay in your own bed, someone is going to adjust – and you want to make sure that person is comfortable.
For a single guest, a futon, daybed, or sofa are optimal choices. To score hosting points, use an extra set of sheets to add a layer of softness between cushions and your temporary housemate. Just, please, give them a real pillow – stylish throws won't make the cut here.
If you have multiple overnight guests or someone has outgrown crashing on the couch, an air mattress is a worthy investment. Online retailers offer a variety of air mattress sizes and prices, allowing you to find one that fits your floor space and budget. When your guests go home, you can deflate the mattress and fold it into a small bag, making it easy to keep tucked away for the next time you have overnight visitors. For the best night's sleep, buy one with a pump to avoid overworking lungs and making re-inflation a chore.
Give it a test run
Put yourself in your guests' shoes for a night. Configure your desired sleeping arrangement and get some shuteye. By spending the night as a guest in your own home, you can check for issues you may not have otherwise encountered – such as street noise, room temperature, lighting and general comfort.
Make adjustments as needed the next morning. If the room got too hot or cold, bring out spare blankets or move in portable fans. If city lights or sounds keep you up all night, set up a DIY noise blocker or curtains. Even a sheet tacked over a window or stuffed under a crack in the front door can go a long way to help your guests get some rest, and they'll appreciate the gesture.
Get out and explore
No matter what, having your apartment over capacity is going to make things a little tight. For everyone's sanity, don't plan to spend the whole weekend scrunched up indoors. Make sure you and your guests spend some time outside the house each day to give yourselves some breathing room from your apartment – and from each other.
Ultimately, your guests want to use their long weekend to spend time with you and enjoy where you live. By making your home a comfortable place to stay, your friends and family will experience the best your city has to offer!