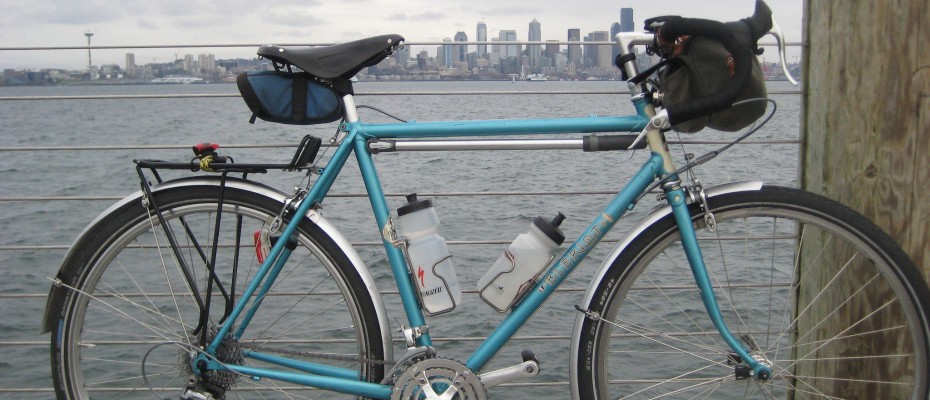 Next up in our series of Urban Cyclist's City Guides: Seattle! Whether you're a new resident or just visiting for a few days, we'll introduce you to the city's bike culture, show you maps of popular rides, and tell you about our favorite bike shops in each neighborhood. 
At HotPads we love everything biking. Check out all of our resources and stories about urban biking. 
In addition to offering great coffee, Seattle is one of the top cities in the U.S. for urban cycling. A combination of ubiquitous biking trails, temperate climate, and a pro-cycling local culture makes Seattle a great destination for anyone who is an urban cycling enthusiast.
Some quick facts about cycling in Seattle:
Bike Trails Are Everywhere
The Seattle Bicycle Master Plan aims to build a 450-mile bike network in total, with a goal of quadrupling ridership between 2014 and 2035. They aim to have 100 percent of the bicycle network constructed by 2035, and are trying to reduce fatalities down to zero by 2030.
The Seattle Department of Transportation has invested almost $36 million in Seattle's Bike Program, which is designed to create this network of bike paths and develop an urban trail system. The full build-out of the program, however, will cost between $390 – $524 million, according to SDOT estimates.
Biking in Seattle is Relatively Safe
Seattle's a great city for bike safety, still we don't recommend biking without a helmet. | Photo courtesy Flickr / Tejvan Pettinger.
The Alliance for Biking and Walking recently released a comprehensive report on walking and bicycling across the country, and Seattle ranked well in terms of overall safety. There were only 1.7 cyclist fatalities in Seattle for every 10,000 bicycle commuters between the years 2009 – 2011.
In addition to relative safety, Seattle also offers a large network of existing cycling lanes and trails. The city ranked seventh in the Alliance for Biking and Walking report for total square footage of bicycle infrastructure in a large city, with about 2.5 miles of on-street bicycle lanes per square mile, 3.5 miles of multi-use paths (i.e., paths shared with pedestrians and skaters) per square mile, and 4.0 miles of signed bicycle routes per square mile.
Seattle is known for being drizzly, so make sure to travel with rain gear.
Seattle Hosts a Social Cycling Scene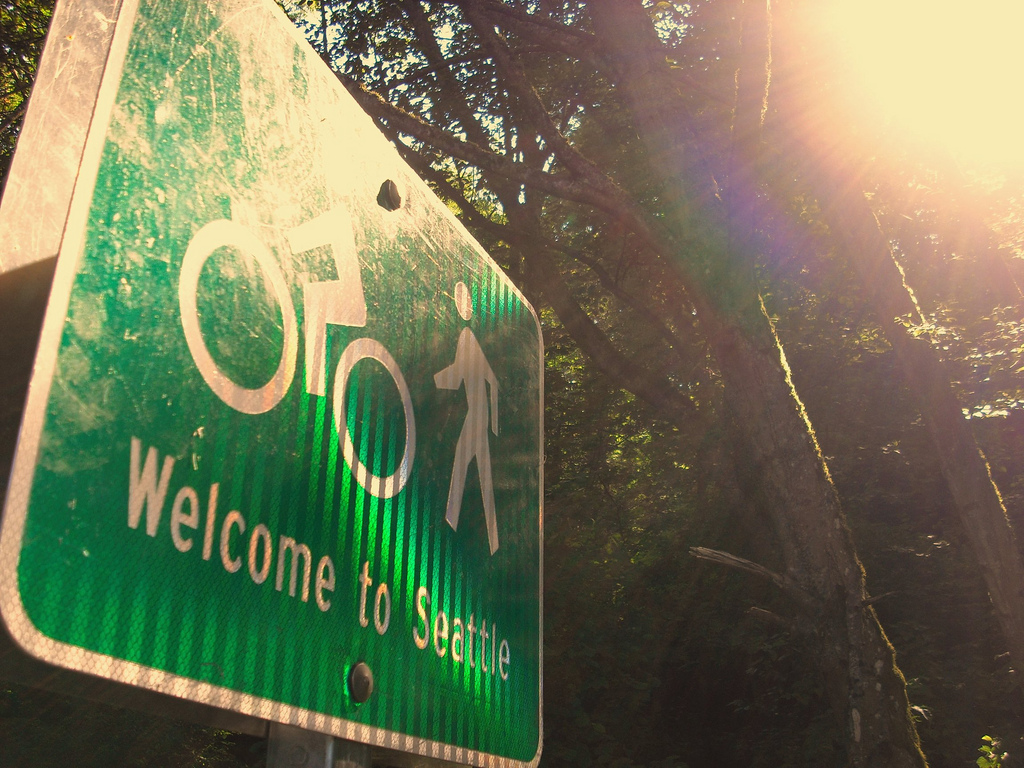 Photo courtesy of 
Bjørn Giesenbauer
.
Of course, urban commuting isn't the only reason to cycle in Seattle. Many residents also enjoy recreation bicycling, as well. One example is the Cascade Bicycle Club, a popular local group, which organizes plenty of rides, community outreach events and other activities.
If you're new to Seattle and trying to get a better understanding of the area, you can turn to a community-based websites such as Seattle Outdoor Info, which offers a comprehensive look at cycling trails and upcoming trail events. From a casual Sunday ride to mountain biking, there are plenty of options for cyclists of all age and activity level.
Commuting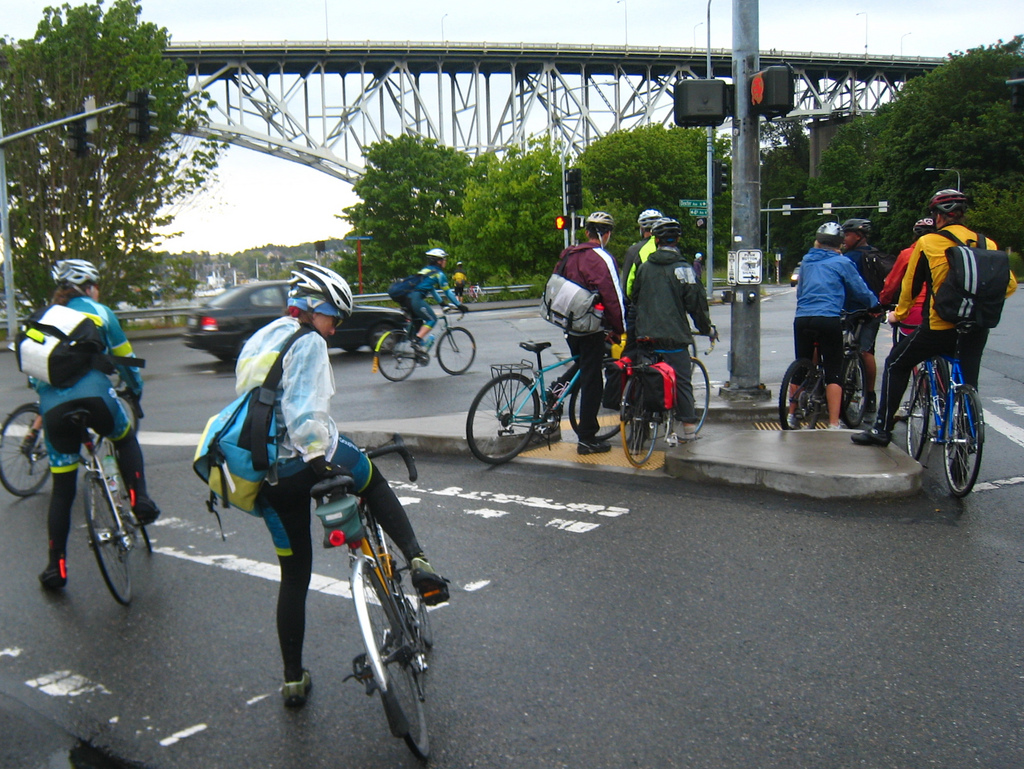 Photo courtesy of
Don Brubeck
. 
With 3% of the population biking to work, Seattle has one of the highest percentages of bicycle commuting in the U.S.
Fitness tracking app Strava recently released this fascinating heat map to show the most popular bike routes in the city, from downtown all the way out to the suburbs:
You can also search for specific routes, download the 2014 Seattle Bike Map from the Seattle Department of Transportation, and get commuter-specific maps (including bike parking maps).
Bike Shops
There are plenty of bike shops in the city, but these 10 are a great place to start as they consistently earn top marks based on customer reviews. We've organized them by neighborhood to make it easier to find the ones in your neck of the woods.
Hello Bicycle
3067 Beacon Ave. S Seattle, WA 98144 206-805-6700
Bike So Good
6107 13t Ave. S Seattle, WA 98108 206-462-3154
Counterbalance Bicycles
2943 NE Blakeley St. Seattle, WA 98105 206-922-3555  
Recycled Cycles
1007 NE Boat St. Seattle, WA 98105 206-547-4491
20/20 Cycle
2020 E. Union St. Seattle, WA 98122 206-568-3090
Gregg's Greenlake Cycle
7007 Woodlawn Ave. NE Seattle, WA 98115 206-523-1822
Montlake Bicycle Shop
2223 24
th
Ave. E Seattle, WA 98112 206-329-7333
Ride Bicycles
6405 Roosevelt Way NE Seattle, WA 9815 206-985-7433
Speedy Reedy
1300-C N Northlake Way Seattle, WA 98103 206-632-9879
The Bicycle Repair Shop
928 Alaskan Way Seattle, WA 98105 206-682-7057 * as the name suggests, it's repairs-only—no new bikes for sale
Cover photo courtesy of 
Papahazama
.