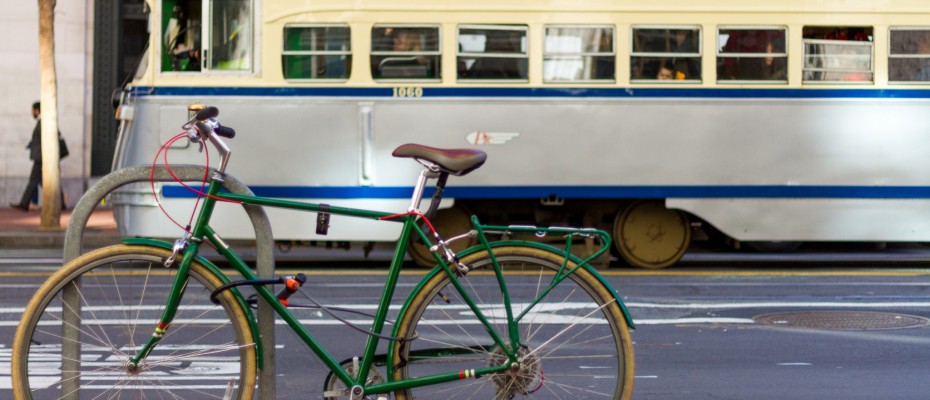 The first in our new series of Urban Cyclist's City Guides. Whether you're a new resident or just visiting for a few days, we'll introduce you to the city's bike culture, show you maps of popular rides, and tell you about our favorite bike shops in each neighborhood. 
HotPads loves biking! Check out all of our resources and stories about urban biking. 
San Francisco is a great city for cyclists. Sure, you'll encounter hills, but San Francisco has more bike paths, multi-use paths and on-street lanes per square mile than any other large city in the country, according to a study by the Alliance for Walking and Biking. There are even organized "Sunday Streets" events throughout the city, when major thoroughfares are closed to car traffic so cyclists and pedestrians can rule the road.
San Francisco is also one of the safest cities in which to bike. The study noted above shows that San Francisco has 0.9 cycling fatalities per 10,000 bike commuters. Only Arlington, Texas and Wichita, Kansas scored better.
Whether biking is your primary mode of transportation or just a hobby, there are many local resources available to route-conscious cyclists. Bike Mapper is an online tool that provides turn-by-turn biking directions for the entire Bay Area. You can customize your options to find the shortest or the flattest route. If you prefer a standard map, the SF Bicycle Coalition has a great one that lays out the entire city, noting various types of bikeways and the steepness of the streets. Strava offers a heat map that provides "ground truth" on where people ride (and run) in the bay area.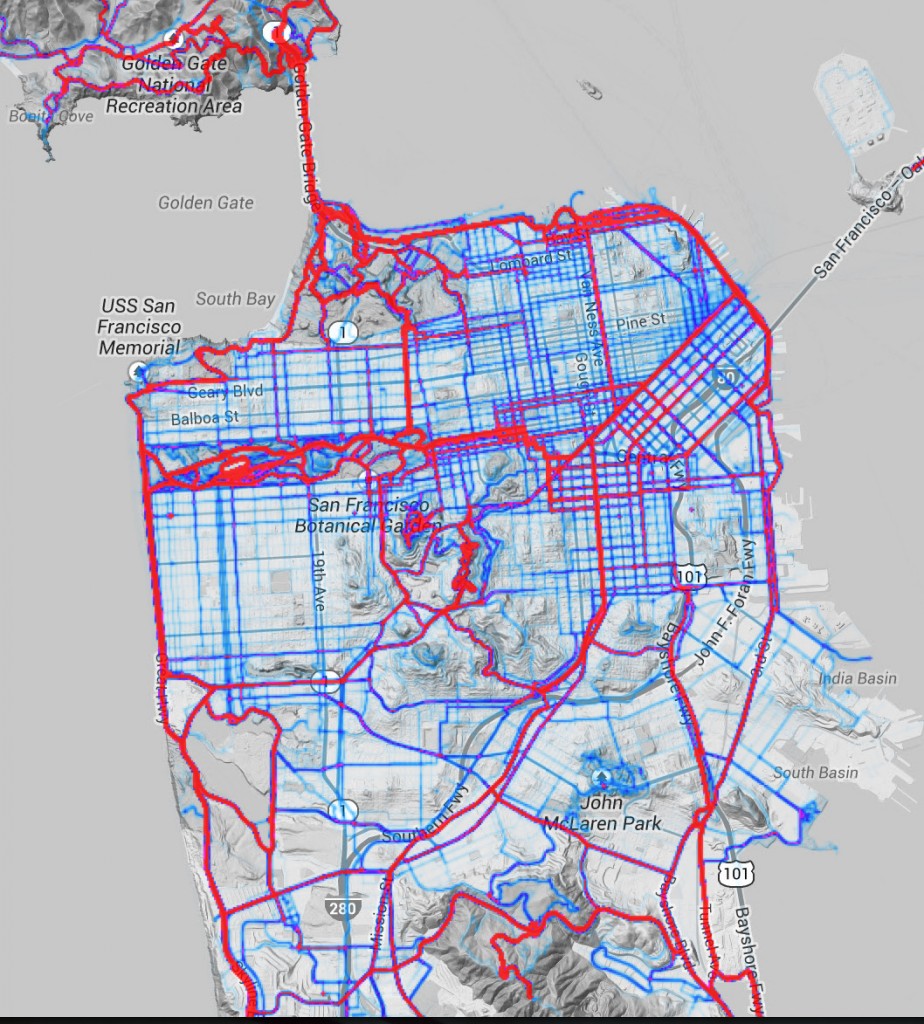 While you can easily plot a ride to and from anywhere in the city, here are five of the most popular routes:
1. The Wiggle
Image courtesy of
Nicholas Boo
.
Avoid some of San Francisco's notorious hills by biking the zig-zagging route known as The Wiggle. It's the flattest east-west route to Golden Gate Park, Sunset, Richmond, NOPA (the north panhandle) and even beyond. Commuters and casual riders alike depend on this route.
2. Valencia Street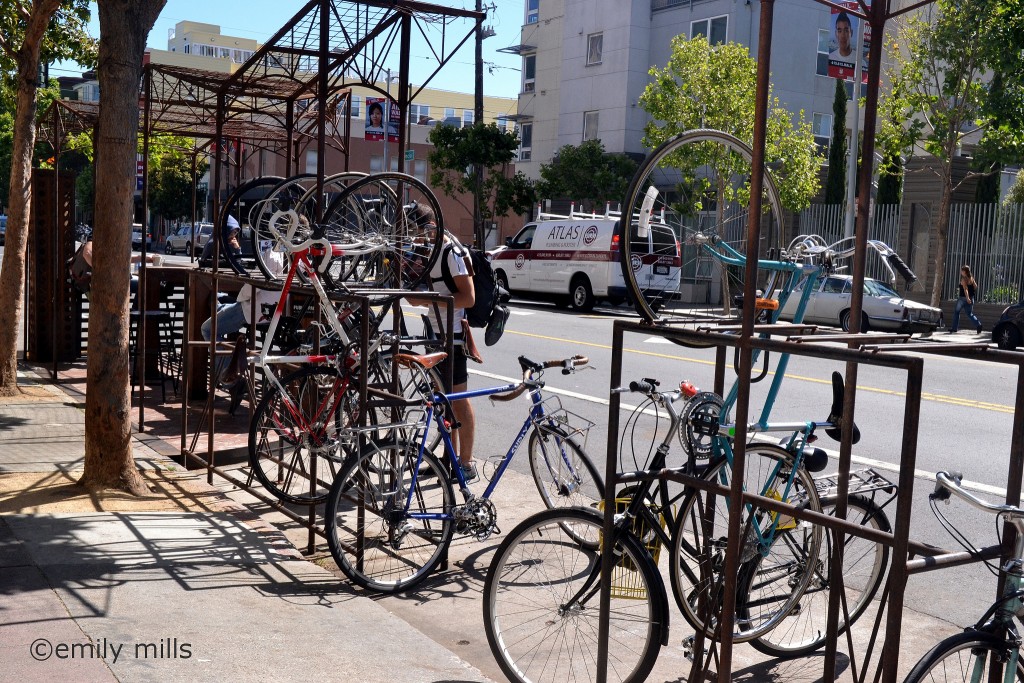 Vertical bike parking on Valencia Street. | Photo courtesy of
Emily Mills.
Valencia Street in The Mission is one of the most action-packed arteries in the city. Great food, hip bars and coffee shops, stylish boutiques and down-to-earth stores line the street. Parking a car is next to impossible, but the flat, 1.5-mile-long street has plenty of bike racks to complement its well-established bike lanes and friendly bike shops.
3. Hawk Hill Loop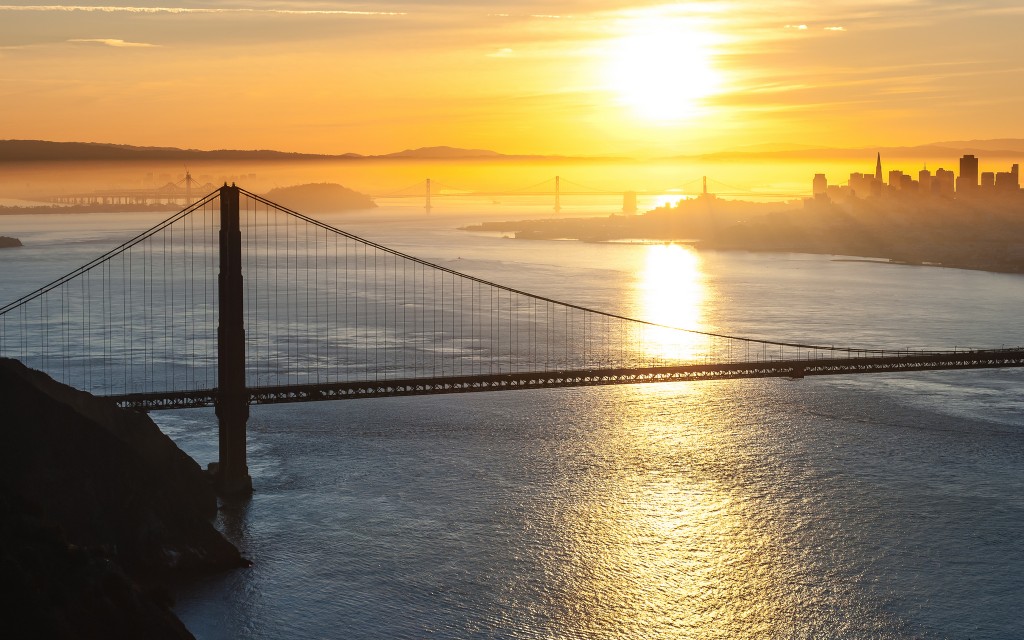 Sunrise over San Francisco seen from Hawk Hill. | Photo courtesy of
Anirudh Rao.
Hawk Hill Loop proves that some hills just shouldn't be avoided. From the Golden Gate Bridge, head left off Alexander Road and climb Conzelman Road to the Hawk Hill overlook. While you take a breather at the top, you'll be rewarded with one of the best views of the city.
4. The Embarcadero
Cyclists heading north on the Embarcadero, with the Ferry Building on the right. | Image courtesy of
Diane Yee
.
There's a bike lane all along the bay's edge at the Embarcadero. If you're heading to AT&T Park in SOMA, there's free valet bike parking for games and other stadium events. You could also stop at the Ferry Building and Fisherman's Wharf, or continue on to Crissy Field and the Golden Gate Bridge.
5. Butterlap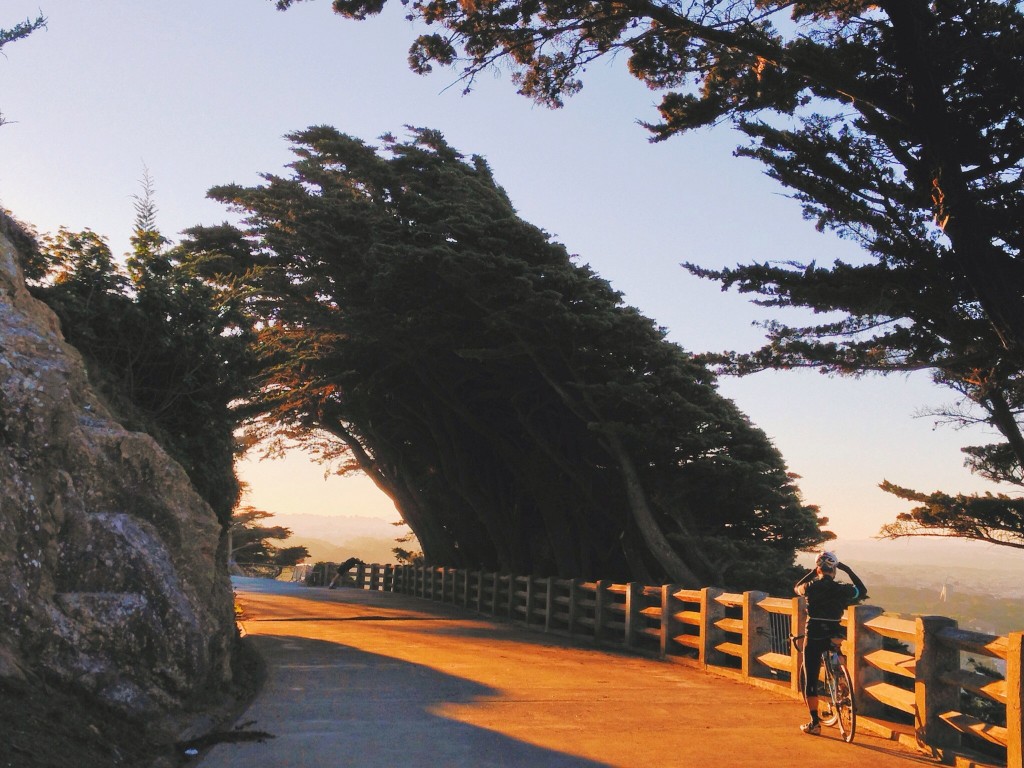 Half of Butterlap. | Photo courtesy of
Bill Couch
.
If you want to turn biking into a social event, the weekly Butterlap is an evening ride through the city that anyone can join. It starts Wednesdays at 7 p.m. in front of the Ferry Building, with stops at Fort Mason Green, the scenic overlook at Lincoln and Washington boulevards, the Legion of Honor Museum, Clement and 43rd streets, Ocean Beach and the Panhandle. The ride culminates with food and drink at Bender's Bar and Grill.
Our Favorite San Francisco Bike Shops By Neighborhood:
Cole Valley:
NOPA:
SoMa:
Cover photo courtesy of
Bhautik Joshi
.