Rent growth is slowing across the country, and renters are starting to see the benefits. In our latest analysis, we found that renters looking for their next place are more likely now to see mentions of rental concessions – move-in specials such as rent discounts and gift cards –than they were this time last year.
Nationally, mentions of concessions are up 15.8 percent over the past year, and rent discounts are the most common type. Chicago, Miami and Atlanta have seen the biggest rise in concessions, with the number of rental listings mentioning a move-in special doubling in the past year.
Still, concessions remain an elusive perk – renters can expect to see them mentioned in about 1 in 100 rental listings on HotPads. Renters in Milwaukee and Portland have a slightly better chance of finding concessions, with mentions of move-in specials appearing in about 1 in 50 rental listings on HotPads.
So why the sudden rise in move-in deals? Rent growth is slowing now due in part to decreased demand and increased construction – and many property owners are feeling that pressure.
That said, some rental markets deviate from the trend. For example, in Washington, D.C., and San Antonio, demand is outpacing rapid gains in supply, and the number of move-in specials mentioned in listings has decreased over the past year. However, renters in these markets have about the same chance to find a concession during their rental search — in both markets, renters can still expect to see rental concessions mentioned in about 1 in every 100 rental listings.
While it never hurts to ask about concessions when shopping for a rental, those seeking a deal on their next home or apartment can use HotPads' search filters to help them find listed rent concessions. HotPads' search filters include an option that allows renters to limit their search to only include properties mentioning listing promos.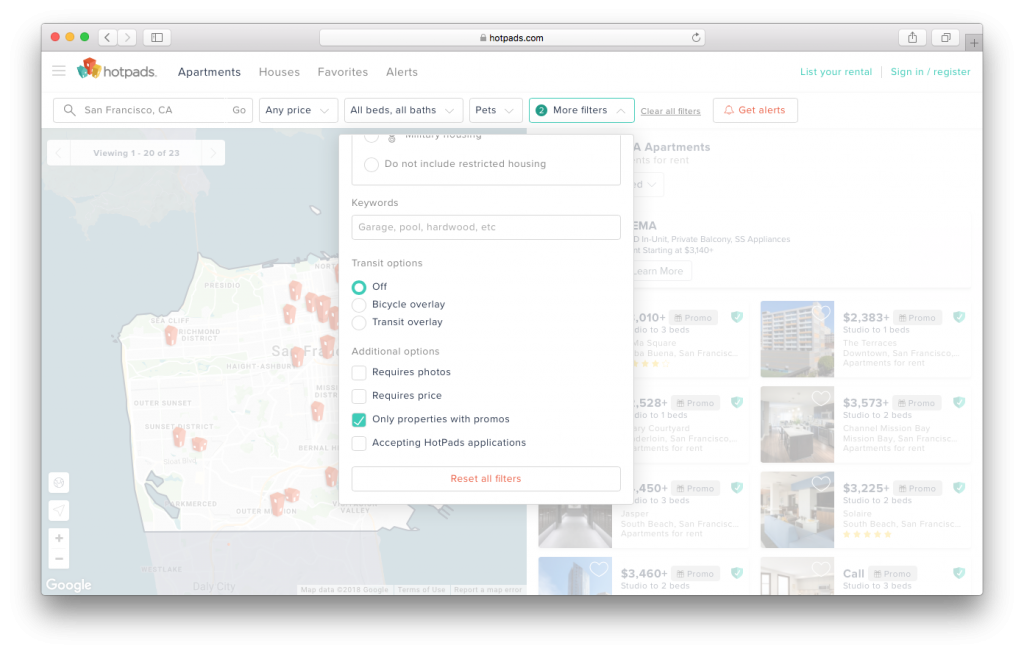 To see how the number of listings mentioning concessions has changed nationally and in several of the country's largest markets, check out the table below.