In the 1800s, the Gowanus Canal in Brooklyn, New York was one of the main waterways for industrial shipping. Today, the canal is a wasteland, seeped with muck from hundreds of years of refuse. While the surrounding neighborhoods of Carroll Gardens, Boerum Hill and Park Slope have quickly blossomed with high-demand real-estate, boutique shops, and acclaimed eateries, the small radius of streets surrounding the Gowanus Canal, known simply as the Gowanus neighborhood, has remained largely unchanged. Until now.
Image courtesy of New York Art Foundry
In 2010, the Gowanus Canal was declared a Superfund site—a waterway so toxic, that the EPA was put in charge of cleaning it up. A few years later, the local government announced a $500 million plan to dredge the murky (and sometimes stinky) waters. Today, the Gowanus neighborhood is rapidly developing as residents anticipate the neighborhood's face lift.
The Gowanus Expressway. Photo courtesy of 
Axel Drainville
.
Walking distance to Barclays Arena, a hop skip and jump to the Hudson River, and a short journey in the opposite direction to Prospect Park, Gowanus' ideal location has perked the ears of eager investors looking for cheap real estate in a gentrifying area. From 2004 to 2012, housing prices in Gowanus rose 52 percent. In the second quarter of 2014, the median sales price in Gowanus was up 6.1 percent from the same period last year, coming in at $785,000 (a gain far higher than the rest of Brooklyn where median prices rose 4.5 percent to $575,000).
According to The New York Times, median rent in Gowanus is a shocking $3,134 a month, far over the average rental price of Brooklyn as a whole.
G Train on the Gowanus Platform. Photo courtesy of 
Axel Taferner
.
Starting around 2009, artists emigrated to the unpolished neighborhood, wooed by the vast empty warehouse spaces. Today, the Gowanus Industrial Arts Complex, a workshop for designers, artists and entrepreneurs houses about 30 small businesses, including food delivery startup Farmigo, salvaged goods non-profit Build It Green! NYC, and The New York Art Foundry.
A similar concept, Brooklyn Art Space opened at 3rd Avenue and 6th Street during the summer of 2013. On 13th Street, Brooklyn Glass, a glass blowing facility moved in in 2011, and Retrofret Guitars, an antique instruments restoration company, is nearby. Gowanus Furniture Co. began to sell artisan cutting boards, window planters and more from their Gowanus space in 2011.
Gowanus Furniture Co. 
Other boutique startups are beginning starting to shuffle in, charmed by the expected canal cleanup. Kitchensurfing, a small business that brings chefs to food enthusiasts' homes, moved into a townhouse in Gowanus in July 2012. Diaper Kind beat the crowd with its 2009 founding of a cloth diaper business along 8th Street. So many makers are moving to the area that there is now a Made in Gowanus Tour, where a tour guide shows off the thriving craftsmanship and idea-makers during a three-hour walk with stops at small business like SoapWalla, Angelrox, and Claireware.
"There's a real maker vibe, where tech meets hands-on, DIY," Holstee cofounder Mike Radparvar told Business Insider, another company that recently moved to the area as well.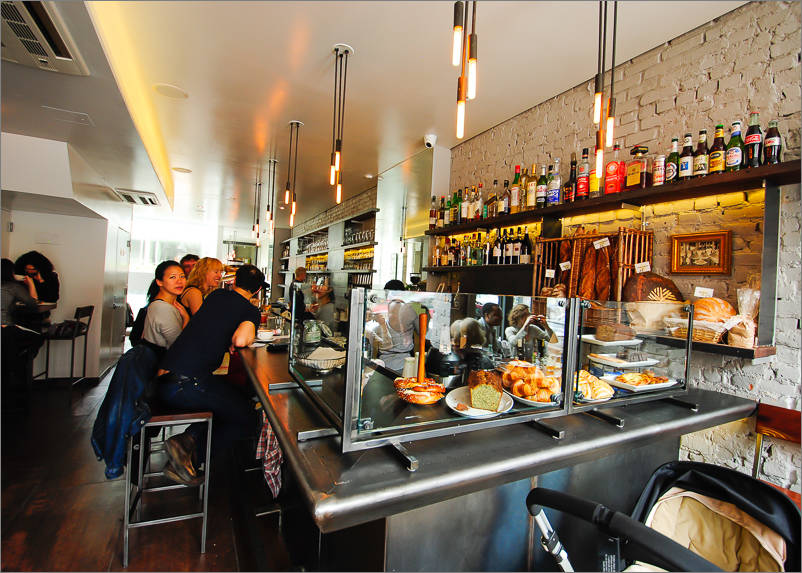 Image courtesy of
Flying Fourchette
Along with a growing population, of course, comes great food. A number of top notch eateries have popped up along the main drags of 3rd and 4th Avenues, including the revered Runner & Stone, seafood spot Littleneck , The Pines' upscale menu, 2 Duck Goose's refined take on Cantonese, Lavender Lake's hip outdoor bar, Fletcher's sizzling barbecue, and Four and Twenty Blackbird's beloved pies.
As the area quietly turns dilapidated buildings into homes for innovative makers, more and more entrepreneurs are eyeing the Gowanus transformation. Genius, an annotation music website, recently announced that it will be moving its 25-person team to a once-abandoned warehouse building in Gowanus, currently under renovation.
The Gowanus nursery is among the handful of new locally-owned businesses that are popping up. Photo courtesy of 
Chris Kreussling
.
Today, construction is underway for a number of residential developments, including a 700-unit building directly along the canal, expected to house employees of the many businesses setting up shop nearby.
"Longtime residents and newcomers agree that this artists' haven might soon mirror other industrial-turned-luxury enclaves like Williamsburg, Dumbo, TriBeCa and SoHo," wrote Ronda Kaysen for The New York Times.
Image courtesy of Zagat
Of course, the clearest sign of the Gowanus' transformation is the 56,000-square-foot Whole Foods that currently sits along the opaque, silted waters of the canal. The groundbreaking establishment opened its doors at 3rd Street and 3rd Avenue in December 2013.
Along with wind turbines and solar panels, the enormous grocery store is home to a 20,000 square-foot rooftop greenhouse operated by Gotham Greens that grows herbs and produce for the store below. It is, in fact, the greenest supermarket in the United States—a striking juxtaposition to the toxic waters that run alongside it. The image, in fact, of the energy efficient, bustling Whole Foods, and the oily, putrid water beside it is the most apt metaphor for all of Gowanus: beautiful and cutting-edge, yet still a great deal to be done.
Project to clean up Gowanus Canal. Photo courtesy of 
gigi_nyc
.
The canal cleanup is expected to begin in 2015, when workers will dredge 10 feet of mud to clear contaminants from the years of canal-side mill, tannery, and chemical plant waste, and create solutions for sewer overflow from the city drains. The project is anticipated to take 8 to 10 years.
Photo courtesy of 
gigi_nyc
.
Once a major transportation route connecting the Upper New York Bay and the interior of Brooklyn, the Gowanus Canal is slowly becoming home to a number of innovators, who are reinventing the neighborhood one shop at a time.
A rendering of architect Ate Atema's plan to repurpose and reimagine the Gowanus Canal.
For more detailed information on the anticipated transformation, check out "Reconsidering Gowanus," a report from Baruch College.