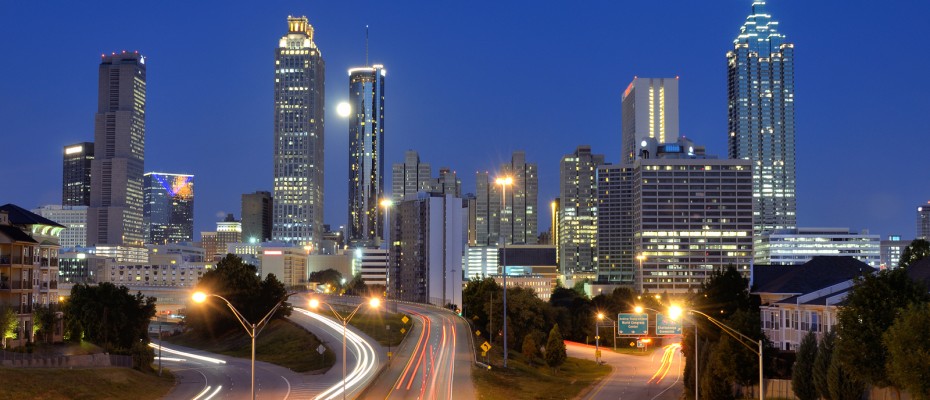 Pop quiz: Would you enjoy living in a city that features:
Lots of sunlight;
Incredible diversity (it's one of the most LGBT-friendly cities in the nation);
Mild winters (40-degree temperatures are considered "extremely cold");
Affordable living costs;
Festivals and concerts almost every weekend from February through October; and
An incredible restaurant, music and fashion scene?
If your answer is yes, then Atlanta might be your spot. The city is booming; it's been on a roll for the past 10 years thanks to all of the aforementioned factors.
Young professionals are flocking to Atlanta to enjoy the benefits of urban living without having to deal with the frigid winters that characterize nothern East Coast cities, such as Boston, Chicago, Washington D.C., and New York. Major companies are creating jobs and the startup scene is thriving, thanks to an educated talent pool, low taxes and a pleasant cost-of-living.
Because housing prices and rental fees are quite reasonable, many Atlanta residents have money left over to enjoy restaurants, concerts, festivals, hiking, spas, art and everything else the city offers.
Of course, a person's experience in Atlanta is greatly determined by the neighborhood in which he lives. A person living in Norcross or Duluth will have a remarkably different experience than someone living in Midtown.
What are the best neighborhoods in Atlanta? Here are four favorites:
Close-up view of the Midtown skyline. Photo credit: Flickr / PaytonC
Midtown is the epicenter of life in Atlanta. Locals don't hang out "downtown," they hang out in Midtown.
You'll never get bored in this neighborhood. Midtown is home to more then 140 restaurants, two comedy clubs, two major art museums, four major concert venues, and countless bars, nightclubs, shops, boutiques, spas, salons and more.
Somehow, Midtown manages to integrate all of those offerings with 230 acres of green space, 8 miles of bicycling lanes and large sidewalks for pedestrian traffic. Midtown is arguably the most walkable neighborhood in the South.
The most common types of residences in Midtown are high-rise condos and lofts, though the historic sections feature small apartments tucked multi-unit-style inside 100-year-old Craftsmen houses. In other words, regardless of whether you prefer living in a modern apartment building with plenty of amenities, or in a charming, century-old home with tons of character, you'll find something to call home in Midtown.
Close to: Downtown Atlanta, Inman Park, Virginia Highlands, Buckhead, Old Fourth Ward and West Midtown (Westside).
The historic Swan House in Buckhead. Photo credit: Flickr / JamieDFW
Buckhead is the uptown district and fashion center of Atlanta. It's the neighborhood that's sometimes called the "Beverly Hills of the South."
Western Buckhead's zip code, 30327, is the second-wealthiest zip code in the Southeastern U.S. (topped only by Palm Beach, Florida), with an average household net worth of $1.35 million.
As you might expect, Buckhead features the types of businesses and services that cater to this crowd. Phipps Plaza, a popular shopping destination in the neighborhood, features shops such as Gucci, Hugo Boss, Armani, Tory Burch, Jimmy Choo and L.K. Bennett. Don't head to this mall in search of Forever 21. But you will find Forever 21, as well as other wallet-friendly shops, at nearby Lenox Square mall, where fashionistas on a smaller budget can get their fix.
The luxury lifestyle magazine Robb Report lauded Buckhead as one of the nation's "10 Top Affluent Communities" due to "the most beautiful mansions, best shopping, and finest restaurants in the Southeastern United States."
As you might expect, Buckhead is home to amazing restaurants, including upscale, white-tablecloth culinary destinations such as Aria, Hal's on Old Ivy, and the Swan House restaurant. But don't worry— those with modest budgets can still feast at places like Atlanta Fish House and Bistro Niko.
If you're looking for nightlife, Czar Bar is a popular Russian ice bar (yes, the bar is made of ice) that's known for its sushi and vodka martinis, while Havana Club is one of the largest, most thriving nightlife spots in the city.
Close to: Midtown, Brookhaven, Vinings, Smyrna and Sandy Springs.
Inman Park is a 'garden' community. Photo credit: Flickr / Glen Irah
Inman Park was the first planned neighborhood in Atlanta, and, as a result, features some of the most beautiful historic architecture in the city — late 1800s and early 1900s homes designed in Queen Anne, Victorian, Colonial Revival and Craftsman styles.
As a "garden community," Inman Park was designed thoughtfully, with ample attention paid to creating parks, charming streets, and public spaces. As a result, it continues to be one of the most beautiful neighborhoods in the heart of Atlanta.
Today, renewed interest in Inman Park has attracted new-construction apartment complexes, condos, lofts and other hallmarks of dense urban development. The neighborhood backs up to the Beltline trail, making it a pedestrian- and cycling-friendly community. Plus, it's home to some of Atlanta's best restaurants, including Kevin Rathbun's, Wisteria, Sotto Sotto, Barcelona, and Il Localino.
Close to: Old Fourth Ward, Midtown, Edgewood/Kirkwood, Reynoldstown, Cabbagetown and Lake Claire.
Restaurants in Historic Decatur Square. Photo credit: Flickr / JKD Atlanta
Technically, Decatur is a city all its own, completely separate from Atlanta, but it's one of the most interesting spots in the metro-Atlanta area.
The City of Decatur, located six miles east of the City of Atlanta, earned a critical spot in history during the Civil War, when Union troops occupied Decatur shortly before the Battle of Atlanta.
But Decatur's significance is more than just historic. Today, it's home to more than 20,000 residents clustered into four square miles, which gives it a balanced population density. In other words, it's not too cramped and not too spread out.
Decatur has a walkable downtown that's filled with top-notch restaurants, thriving bars, and fountains where kids and dogs can splash around during the daytime. The city also hosts live concerts in the city square, a public "beach" (huge sandbox) in the summertime, and a popular farmers market.
Many residents are students at nearby Emory University, one of the most elite colleges in the South. Many families also live in Decatur, attracted in part by the fact that it's home to one of the best public school districts in metro Atlanta.
If you're looking for a "neighborhood" feel, Decatur is your spot. It describes itself as "Just like home … without the relatives."
Close to: Edgewood, Kirkwood, Avondale Estates and North Druid Hills.
---
What's your favorite Atlanta neighborhood? Tweet us @hotpads!
Related page: Apartments For Rent in Atlanta GA