When you're a renter, your property manager holds the keys to your future—both literally and figuratively. And when they're not doing their due diligence, your leasing life can become miserable, fast. Pest control problems, leaks, and bum appliances are just a sampling of some of the issues you'll come across when you have a lax landlord. And they aren't just petty annoyances. When left unchecked, maintenance problems can result in property damage, fires, and theft, to name just a few. Luckily, if you pay close attention during your walkthrough, you can usually read the warning signs—before you sign a lease. Here are five dead giveaways that a rental will be a maintenance headache.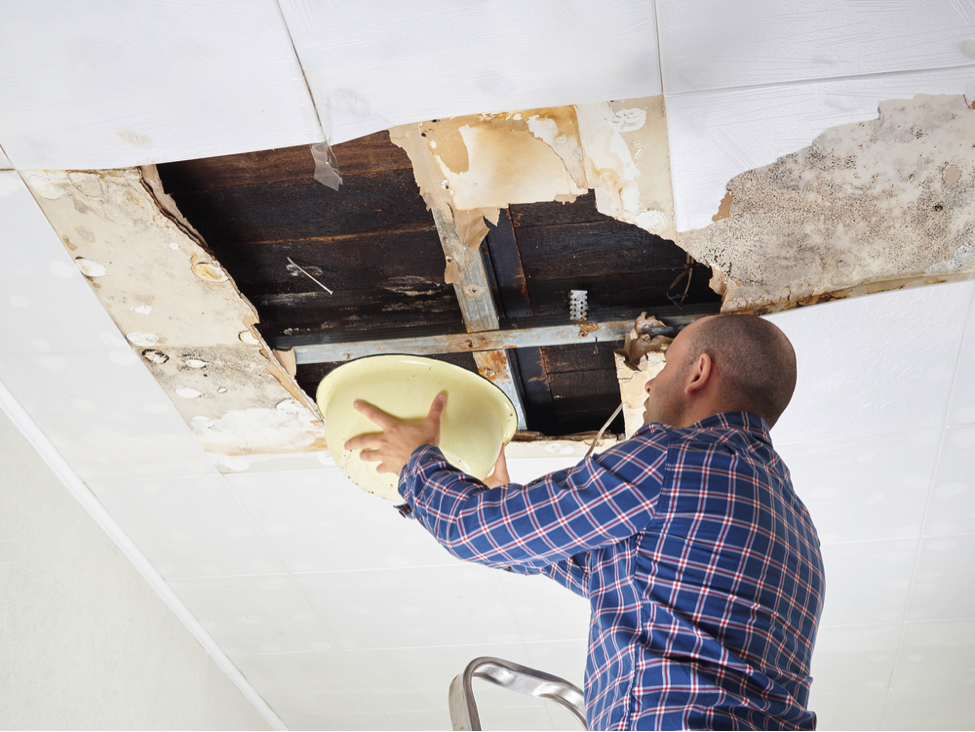 Discolorations on the Walls and Ceiling
Leaks are a property nightmare. They're often lengthy and expensive repairs, so a neglectful property manager may drag their feet in order to avoid paying up. Meanwhile, the leak is only going to get worse, so your personal items are at risk of being soaked and destroyed. When you inspect a property, keep an eye out for brown discolorations, puffy plaster, and mold, which can indicate a leak is nearby. Don't forget to check in the cabinets under the sink and around the bathtub and water heater, as well. Leaks here may not cause your ceiling to cave in, but they're still damaging.
Signs That Pests Have Moved In
Cockroaches, rodents, and ants are excellent at hiding in the shadows. If you see evidence of pests when you're just being shown around, you can bet there's a whole army of pestilence waiting behind the cabinet doors or inside the walls. Signs to look for include dead specimens, droppings, and telltale brown flecks in the cabinets and drawers that are a sure sign of roaches. There's also a sickly-sweet smell that usually accompanies an infestation, so if you smell something off, run for the hills.
Appliances and Smoke Detectors That Don't Work
First, you need to understand your landlord's obligations when it comes to these items. Smoke detectors are up for debate—your landlord is required to test and maintain them regularly. Appliances, on the other hand, are a different animal entirely. While most states don't require property owners to provide residents with amenities like stoves, dishwashers, and fridges (although who would want to rent an apartment without them!), if an apartment or home does offer a major appliance, it's up to the owner to make the necessary repairs. When you go to see an apartment, make sure to test each item. If something's not working properly on the walkthrough, it's a sign that your landlord or property manager doesn't really care that much about the tenants or the space.
Shaggy Grass, Unkempt Pathways, Trash on the Grounds
A good apartment complex will hire a maintenance crew to visit regularly and keep up with the property's landscaping. Unless it's just rained for days on end, the grass on the grounds should be neatly cut, and shrubs and trees trimmed back so no dangling branches obscure the pathways or parking lots. Walkways should be maintained as well, without trash or debris scattered around the yard. While your apartment's exterior appearance may not seem crucial now, especially if you're desperate to find a new place, it can definitely be a reflection of your property manager's general work ethic when it comes to making repairs. Make sure to get a good look at communal areas, like laundry rooms, gyms, and pools too. Even if you're looking to rent a house where the tenants are expected to keep up with outdoor maintenance, if the lawn is scruffy and unmowed, proceed with caution—you never know what else the previous resident let slide.
The Price Seems Too Good to Be True
According to Consumer Affairs, rental scams are on the rise. This occurs frequently in tight markets, where criminals take advantage of the public's fervor to snag a great spot. Be on the lookout for landlords who ask you to wire money to locations out of town, particularly if it's before you've even been shown around. And be wary of deals that seem too good to be true. If you're not careful, you might find the property door locked, with the landlord nowhere to be found, while you're left holding the bag for hundreds of dollars.
It only takes one bad rental experience to sour you on leasing forever. Follow these tips and your renting life will be blissful and free of the kind of bumps that make renting a nightmare.