When you're searching for a new apartment, you often feel pressured to pick the first available place that fits your budget. After all, most units don't lease out months in advance, so you're often under the gun to find a new home in just a few weeks.
But it pays to spend just a little extra time in your search to give your potential pad a thorough look over—because some red flags are visible in the walkthrough, and they can save you months upon months of hassle and headache. Finding these defects early, before you sign, will help you avoid an apartment disaster. Run, don't walk, from a rental with one of these five warning signs.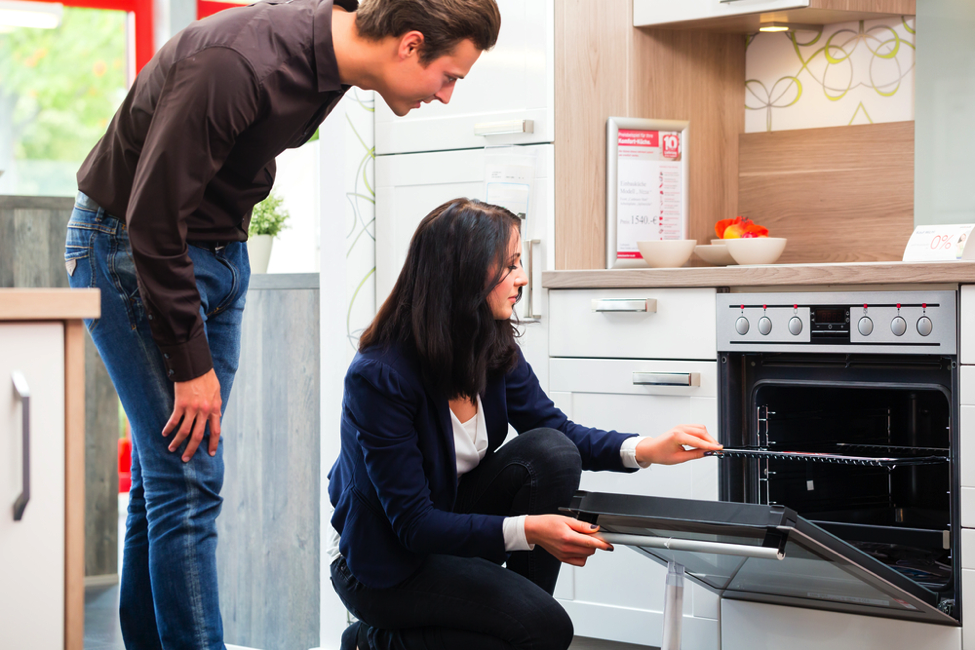 Kitchens that show signs of past infestations
There's nothing like a good roach infestation to make you pray for the end of your lease. That's why it's key to suss out the signs of a problem before you sign away your next twelve months. Don't be timid. When you see a new apartment, open the cabinets, drawers, and pantry doors and take a good look around—snoop deep into the dark corners of your future kitchen. While you most likely won't catch a glimpse of any offending insects, you can seek out signs that an unwanted housemate has been there, such as brown or black flecks or discolorations on the shelf paper and inside drawers, residue that's most likely waste matter from insects. Also keep an eye out for forgotten insect traps, and check your lease for the apartment's extermination policy—some places spray regularly as part of routine maintenance.
Leaking roofs and pipes
Likewise, a leaking roof makes apartment dwelling a nightmare, and it's one of those things that's tough to get lax landlords to fix. Scan the ceilings and walls in your future apartment for evidence of water damage—brown discolorations or puffy, distended plaster are two sure signs. Also have a long look at the cabinet area under all sinks and even the floor around the water heater, inspecting them all for water damage. After that, turn on the taps to ensure that water drains promptly and properly, and that sinks and shower heads don't drip when the water's shut off. At their most innocuous, poorly functioning pipes can drive up water bills and attract insects, but at their worst, they can cause major property damage, as well as becoming a huge safety hazard, so apartments with these problems aren't worth the risk.
Mold damage in sinks, showers, or on carpets
Mold doesn't just look funky—it's been linked to a host of health conditions that run the gamut from watery eyes to asthma flare-ups to chronic lung problems, in more severe cases. If you don't want to spend the next year breathing in toxic air, be sure to check over the shower, sinks, and carpeting carefully for signs of mold—namely, telltale black spots and a musty, damp smell pervading the area. If you spot one or the other, look for another place to hang your hat.
Non-functioning HVAC, outlets, and appliances
Nothing like sweating out a whole summer with a feeble AC unit that's on its last legs. Before you sign a lease, test out the apartment's AC and heating—if you can't feel the results, it's time to look elsewhere, no matter how cutthroat the rent. Bring your cell phone charger with you and plug it into all the outlets (including the ones outside or in the bathroom). Next, turn on all the lights and check out the dishwasher, stove, refrigerator, and any other included appliances.
An unsympathetic landlord
A landlord that will actually make repairs is worth his or her weight in gold, so it's good to get a sense of yours before you commit. Watch out for landlords that make impossible demands during the leasing process—expecting you to have documents signed before you've had time to read through them, for instance—as that could indicate trouble down the line. Meanwhile, if your landlord or property manager seems less than thrilled to have you or your pets on board, or becomes cagey or unresponsive, especially when you press him or her about potential issues, give the apartment a hard pass. Your landlord should be working as hard as you are to establish a positive and cordial working relationship—and that means being available and maintaining a pleasant, professional demeanor at all times.