While you can't often change the architecture of your home, you can change your decor when you want to mix things up a bit. With winter wrapping up and spring on its way in, you might be looking to refresh your home with a few quick fixes and updates.
Adding new window treatments is an inexpensive way to transform your space. They complement your existing style, but they also give you a little wiggle room to experiment. Consider how much privacy you need, how much light you want to allow, the level of insulation you'd prefer and your budget before choosing your new window coverings. With all those aspects in mind, we've chosen three of our favorite options to help you get started.
Curtains
Curtains are at the top of our window treatment list due to their versatility and ability to take any room from drab to fab. Because you have such a plethora of options to choose from, it's best to know ahead of time what you want your curtains to do. If you're looking for privacy, especially for first-floor bedrooms and bathrooms, we recommend darker panels or lined curtains. Dark panels hide your windows best and lend a moody, romantic vibe to the room. They are also a great striking and graphic element for a space that needs a little jolt.
Curtains can also distract from an undesirable view, like an alley or your next-door neighbor's fence. If privacy isn't an issue, opt for sheer curtains. They're a timeless style, and can soften a room that has busy patterns or harsher tones. If you have any asymmetrical windows, sheer curtains also help to balance them, lending symmetry to your space. If you want a softly lit room, opt for sheer curtains with light lining for a romantic dimming effect.
When looking for window treatments for the master or guest bedroom, we suggest blackout curtains that block sunlight completely, for those days when you just want to pull the covers over your head and sleep the day away. Lined curtains are also great insulators for particularly cool or warm days, providing a natural way to adjust your home's temperature.
You should also look to your personal style to determine which direction you want go. If you have stark white walls with little decor, choose statement drapery in darker colors like charcoal and plum to offset the brightness of the room. If you're looking to add a graphic element, choose curtains with a geometric print to create visual dimension in your space. Lastly, you can never go wrong with a neutral-colored, lined curtain. Classic and casual, a neutral curtain pairs well with modern, transitional and traditional decor styles.
Roller Shades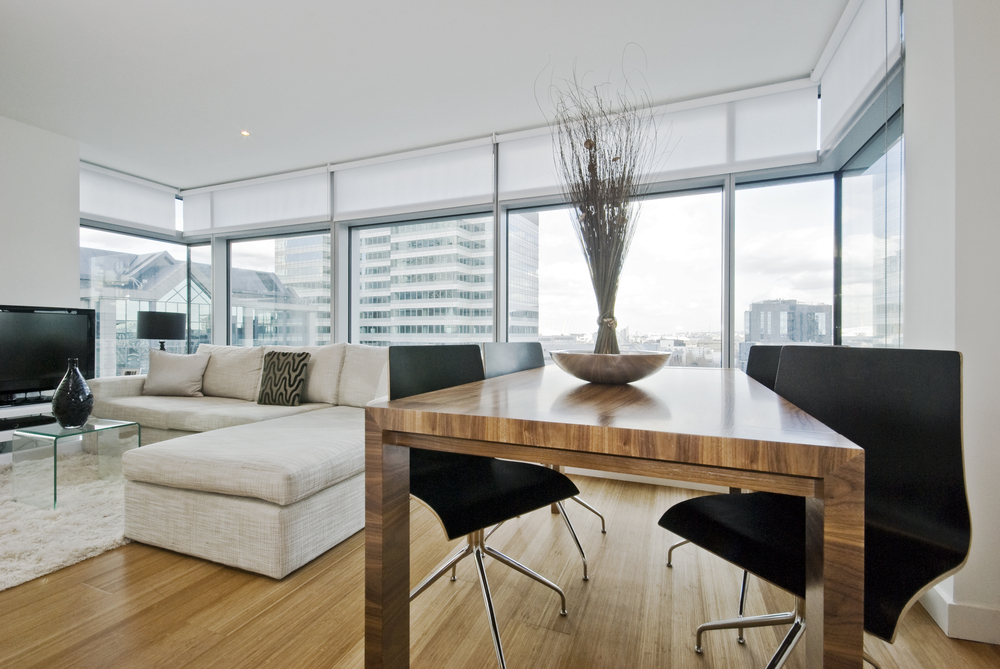 Roller shades are perfect for steeply pitched ceilings, and they're less obtrusive than other window treatments. They allow for free-flowing design in any room, so you can let the rest of your decor do the talking. Roller shades fit into tight spaces, like small bedrooms and half baths, and offer enough privacy to work in a first-floor bathroom or bedroom. While they don't provide the same amount of insulation that curtains do, roller shades are easily adjustable and work well in spaces that need a lot of natural lighting, like master bedrooms and living areas.
Because roller shades are neutral and add subtle texture to a space, they pair well with any design style. If your preferred look is cool and modern, add roller shades to your sleek and streamlined bathroom for the perfect amount of natural light and texture. Are you more traditional? Consider a subtly printed shade for your dining room to add extra flair.
Roman Shades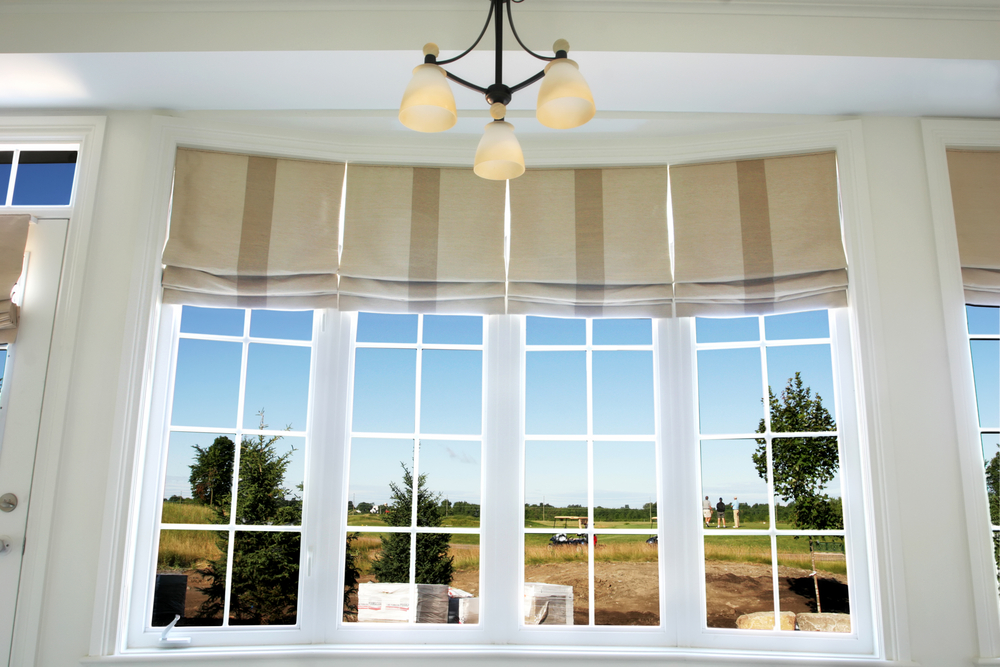 The best of both worlds, Roman shades are a practical alternative to curtains and roller shades. They add instant polish to your space and are the answer to your tough-to-dress windows, especially in formal dining rooms and bathrooms. Offering full-coverage privacy, Roman shades are ideal for windows situated above showers and bathtubs.
Most often used in traditionally styled homes, Roman shades come in an array of colors, textures and styles, so you can use them to create a perfectly warm or cool environment. Unconstructed flat styles are simple and, as their name suggests, lay flat against your chosen window. Some more intricate options include relaxed, balloon and butterfly styles. Each are beautiful in their own right, but some take more fabric to construct than others. Pay attention to the room's design and your allotted budget to decide which type of Roman shade fits your space best.
Whether you choose curtains over roller shades or like Roman shades best of all, window treatments add the perfect amount of oomph to your space. Browse different styles and remember to focus on your desired privacy, insulation and light levels before deciding on the best option. Don't forget to experiment with graphic patterns, complementary decor and your favorite personal touches to make your newly decorated space truly feel like home.
Award-winning interior designer Kerrie Kelly writes for The Home Depot on decor and house renovations, including topics like window treatments. Kerrie is the founder of Kerrie Kelly Design Lab in California and the author of Home Decor: A Sunset Design Guide. For more information on drapes and curtains, you can visit the Home Depot website.