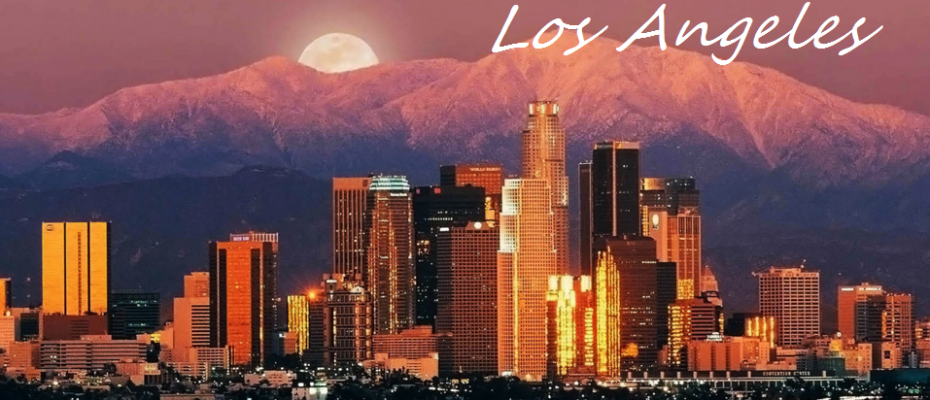 The "City of Angels" is the second-largest city in the United States and the highest populated city in California. Los Angeles is known for its climate, ethnic diversity, sprawling metropolis, and as the center of the American film industry. Los Angeles has been home to Hollywood celebrities, producers, and writers for generations, dating back to the Golden Age of Hollywood.
Let's take a tour of Los Angeles homes made famous by their current or former occupants:
Charlton Heston's Home is For Sale For The First Time Ever
Proclaimed by Heston as, "The house that Ben-Hur built," he and his family moved into the home shortly after the filming of Ben-Hur concluded. Heston lived here until his death in 2008. The property boasts mountain views from almost every room, has four bedrooms, as well as staff quarters, and six bathrooms, as well as a stunning two-story library located off the master suite.
Gore Vidal's Mediterranean Villa
Gore Vidal – historian, author, and sworn enemy of  William F. Buckley – home has hit the market. Vidal died in 2012, leaving behind this elegant five-bedroom, four-bathroom Mediterranean villa in Outpost Estates, near the Hollywood Bowl.
Tommy Lee and Pamela Anderson's "MTV Cribs" Home
The former home of Tommy Lee and Pamela Anderson boasts almost 7,500 square feet of space and striking views of Calamigos Ranch, Celio Farms and Rocky Oaks wineries. It's also a piece of history, this is the home the Mötley Crüe drummer proudly showed off in a classic episode of MTV Cribs.
Hollywood Icons Called This Holmby Hills Mansion Home
These halls were once graced by Hollywood Legends such as: Audrey Hepburn, Frank Sinatra, Mia Farrow, David Niven, and Eva Gabor. The house has just hit the market; it comes with six bedrooms, four bathrooms, a tennis court, and a pool on more than an acre of land.
Bea Arthur's Long Time Home
The Golden Girls' star, Bea Arthur lived in this Brentwood home until her death in 2009. The nearly-four-acre spread, in what Arthur herself described as "country" surroundings, was originally built in 1924. The home was designed by architect Cliff May, but was heartily renovated in the mid-2000s by Arthur's son, Matt Saks. The five-bedroom, six-bathroom house measures more than 7,000 square feet, and the property includes its own hiking trails and waterfalls.
Calvin Klein's "Bird Streets" Home
Calvin Klein has just bought himself a stylish contemporary house in the Bird Streets of the Hollywood Hills. The house has fully retractable walls of glass, 13-foot ceilings, a home theater with seating for 12, an entryway that "features a bridge over a waterfall and reflecting pool," a 65-foot infinity pool, and a garage with space for eight cars. In all, the house has five bedrooms and seven bathrooms; the master bedroom has its own private terrace and fireplace.
Antonio Banderas & Melanie Griffith's Italian-Revival Home
The recently divorced couple has sold their 15,000-square-foot, 13-bedroom estate in Hancock Park for sale. The palatial, Italian-Revival style house is designed by Gordon B. Kaufmann, there is a two-story banquet hall, hand-stenciled ceilings in the dining room, box-beamed ceilings everywhere else, and covered walkway along the courtyard, the main house looks a lot like a beautiful old church. In 2000, the couple bought the house next door, demolishing it to add the lot to their property; it holds gardens and vast lawns now. With the addition, the property is over an acre and a half.
John Barrymore's 1920s "Bella Vista" Estate
Drew Barrymore's grandfather purchased the Bella Vista in 1927. Barrymore – an actor himself –  lived in the house until he died in 1942, but it still has plenty of Old Hollywood glamour. Bella Vista was purchased in the 1990s by the late film producer/director Tony Scott (Top Gun, Enemy of the State). Scott committed suicide in 2012, and property records show that a trust in the name of his wife, Donna Scott, is the current owner. The home is listed for sale.
Patrick Dempsey's "Frank Gehry" Home
Dr. McDreamy, or Patrick Dempsey to his friends, has sold his Frank Gehry home in Malibu. The two-story house was recently redone by the Dempseys to make it a little more homey. A feat they accomplished by adding a pizza oven in the kitchen and bringing in a bunch of cute farm animals to roam portions of the 3.3-acre spread. The three-bedroom, 5,547-square-foot dwelling has soaring ceilings and multiple fireplaces. Outdoor spaces include an animal coop, a four-stall barn with pasture, and what appears to be an Airstream trailer.
The El Royale – The Most Glamorous Apartment Building In Los Angeles
Home to Hollywood celebrities from the golden age such as: Clark Gable, Loretta Young and writer, William Faulkner, the El Royale has stood since 1929. More recent celebrity residents include: Uma Thurman, Cameron Diaz, Ben Stiller, Jack Black, and Josh Brolin. The building last sold in 2012 for $29.5 million.
Want to live in this iconic building? A 1 bedroom, 1 bath, 800 square foot apartment will set you back approximately $5,000 per month. Sheesh!
Photos and property descriptions – Courtesy of Curbed.com. Click addresses for more stunning property photos.